300: RISE OF AN EMPIRE
A WARNER BROS. PICTURES
and LEGENDARY PICTURES Presentation
A CRUEL AND UNUSUAL FILMS/
MARK CANTON/GIANNI NUNNARI Production
Cast

Themistokles SULLIVAN STAPLETON
Artemisia EVA GREEN
Queen Gorgo LENA HEADEY
Aeskylos HANS MATHESON
Scyllias CALLAN MULVEY
Dilios DAVID WENHAM
Xerxes RODRIGO SANTORO
Calisto JACK O'CONNELL
Ephialtes ANDREW TIERNAN
King Darius IGAL NAOR
Daxos ANDREW PLEAVIN
Persian Emissary PETER MENSAH
General Artaphernes BEN TURNER
General Bandari ASHRAF BARHOM
General Kashani CHRISTOPHER SCIUEREF

The film is directed by Noam Murro, from a screenplay by Zack Snyder & Kurt Johnstad, based on the graphic novel Xerxes, by Frank Miller.

It is produced by Gianni Nunnari, Mark Canton, Zack Snyder, Deborah Snyder and Bernie Goldmann.

Thomas Tull, Frank Miller, Stephen Jones and Jon Jashni serve as executive producers.

Director of photography Simon Duggan, production designer Patrick Tatopoulos, editors Wyatt Smith and David Brenner, costume designer Alexandra Byrne.

The music is composed by Junkie XL.
Opening in 3D and 2D in select theatres and IMAX, the film is distributed worldwide by Warner Bros. Pictures, a Warner Bros. Entertainment Company.
This motion picture
© 2013 Warner Bros. Entertainment Inc. and Legendary Pictures Funding, LLC.
All Rights Reserved.
Websites:
" It embraces the history in '300,' but Thermopylae was just one fight in a war that lasted many years, so there was still a lot to explore in the real and mythological stories of the time." producer G. Nunnari

For glory's sake. For vengence sake.
"War!"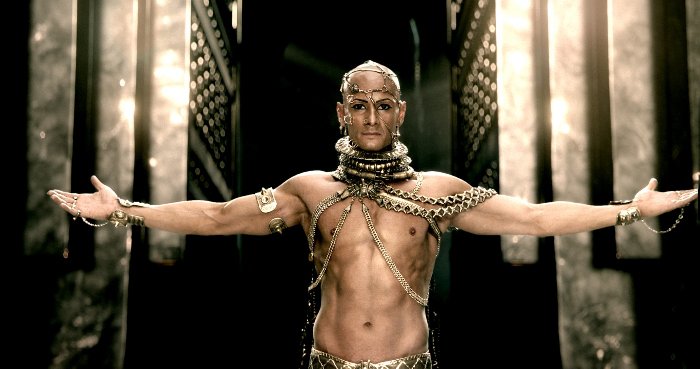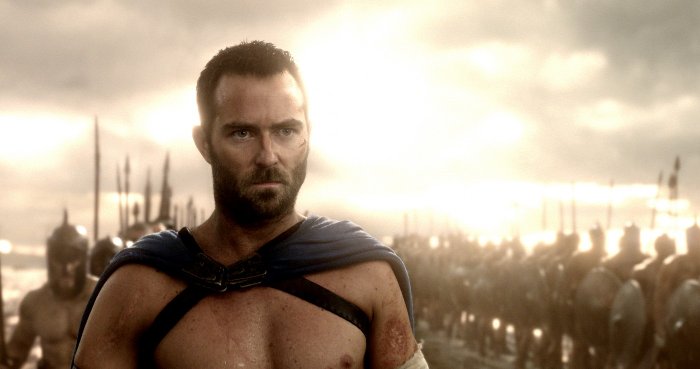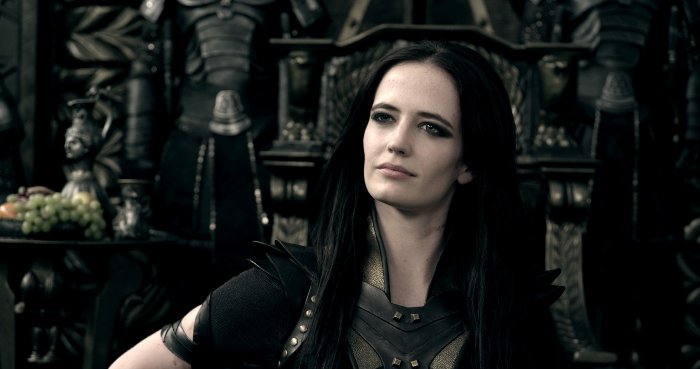 "300 - Rise of an Empire", directed by Noam Murro, is an attractive, visually breathtaking film. Much "blood", many effects, epic atmosphere and the remixed Black Sabbath`s "War Pig" played while the credits are running. Of course it is a movie (Based on Frank Miller's latest graphic novel Xerxes) and not a documentary, although the fictional part tries to balance certain historical truth. After all, this is the same "phylosophy" that has brought the previous story "300" with Leonidas and his 300 Spartans to success. Under some aspects this "sequel" is even better because it is less rethorical. The definition "sequel" is however not completely correct, from the moment that "300:Rise of an Empire" begins almost in contemporary to the battle at the Thermopylae, in order to go further then in time. Now the battlefield is the sea and the story pits the Greek general Themistokles (Sullivan Stapleton) against the massive Persian "armada" set under the command of ruthless warrior Artemisia.

Producer Snyder recalls: "Frank Miller contacted me and said he was working on an idea about an Athenian general named Themistokles, who led the Greek Navy against the Persian Navy, which was commanded by this amazing woman named Artemisia. When he told me it took place during the same three days as Thermopylae, where Leonidas faced the Persians at the Hot Gates, and with an equally significant outcome, I thought, 'Wow, that's very intriguing.'

"The idea was to create a second story within the architecture of the first film," says director Noam Murro "Thematically, it is in a similar historical context, so it intersects with '300,' while coming from a different perspective that is just as engaging."

Nunnari says"It embraces the history in '300,' but Thermopylae was just one fight in a war that lasted many years, so there was still a lot to explore in the real and mythological stories of the time."

This fiction tells why and how Xerses has turned to a God- King, we will have a glimpse of how Xerses was and how he suffered when his father, the Persian King Darius, was killed (by Themistokles). We will know why Artemisia (Eva Green) has turned to the fierce and cruel commander of the Persian navy, we will admire Themistokles as well as we admired the character Leonidas. Spartan Queen Gorgo, together with Themistokles, will get her personal vengeance and vengeance for whole Greece. Freedom and unity of a nation is the hymn.

Reprising their roles from "300" indeed , Lena Headey stars as the Spartan Queen, Gorgo; David Wenham appears as Dilios; Andrew Tiernan is Ephialtes; Andrew Pleavin is Daxos; and Rodrigo Santoro returns in the role of the Persian God-King, Xerxes. Queen Gorgo is the storyteller.

Rodrigo Santoro says: "The great thing about 'Rise of an Empire' is that we get to see Xerxes as a young man and understand how he transformed himself into this amazing being. The way I see it, it was an act of courage on Xerxes' part because he had to commit himself to a kind of death before he could experience this rebirth."

Fiction and just some kitschy moments apart, this is a truly enjoyable and involving movie, one of the best in its genre. This movie has let in me a sense of adventure, a big visual of the Persian splendour in architecture and magics, the desire to read even more about Alexander The Great that unified these two enemies. In 3D, this movie is awesome. Not to be missed, now in selected theatres and then in DVD, at your`s.

8/10

review by dalia di giacomo