Pearl of Folk Gothic Metal.

I cant but remember this "underground" Italian band that in 1997 realized a very enchanting album …that in that year was very appreciated from all those who liked this kind of sound; After then….I never heard any longer about them, but, with my big surprise, I see that they're back and, under the wing of Francesco Palumbo and its MKM, they have realized a very good come back!


As in the past, the new album is influenced by gothic metal, medieval folk, rock, and prog. This trio comes back with an album that makes me nostalgic of and let me remind of that sweet jewel called "The Treasure Arcane".
They never have abandoned their main influence and this album is another pearl of folk gothic metal that will be the joy of all fans who appreciate this style!

The guest vocals of Milena Saracino adds value to the great approach made by the two singers Gianlugi Girardi (melodic voice), Emanuele Rastelli (growl)..but also guitars, bass….The trio is completed by Mattia Stancioiu…that is also Labyrinth's drummer!!!!



The album doesn't get a very production and in my personal opinion it's the most important problem, because besides it, I have to say that band gets very good ideas and is able to mix in a wise way …gothic , metal and folk and shadows of prog…without ever making the listeners bored…

The album goes from deep and dark sensations to a finicky search of different atmospheres …that can be mellow but also full of wildness….
There are shadows of a lot of famous bands and …as I said before, the essence of this music is in the message…full of depth expressed by affected lyrics…and I'm sure that a song like "Ultima Thule" could be appreciated not only by gothic metal fans…
There are surely very heavy moments like "At The Crystal Stars Of Winter" that remind of their debut album…but on the whole I say that this band is another precious one that I hope will amaze us for the future….
This album is very good but the production is not up to the value of the songs…so I hope they'll improve this aspect in the future.


8/10
written by Salvo Russo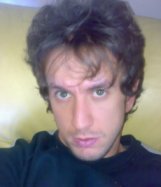 Salvo Russo is editor for gryphonmetal.ch since 2001.
He is based in Italy, reachable at this e-mail address nightofdreams@hotmail.it.
03.08.2011