---
---
Dystera (CH), ArcanuM (CH)
Sissy's Place, Birsfelden, Swiss Canton Basel-Landschaft, Switzerland – January 27 2012
Fotos und Livebericht von Dominic Latscha

Italienische Übersetzung von Marco Giana
review in English

Rezension auf Deutsch

recensione in Italiano
---
---
Fotod ja otsereportaaž: Dominic Latscha
Sissy's Place on kontserdipaik Birsfeldenis, mis asub Basellandi kantonis Šveitsis. Selle asutas 1998. aastal itaallanna Sissy. Siin on mänginud paljud Baseli piirkonna ja teiste kantonite bändid. Seejuures on külas käinud ka tuntud gruppe, näiteks Šveitsi hard rocki legend China, aga ka kuulsa Krokuse liikmed koos laulja Marc Storacega ja juhtkitarristi Fernando von Arbiga. Kui niisugused legendid saadakse kontserti andma, peab see midagi tähendama.
Külastasin hiljuti selle klubi kodulehte ja avastasin, et tulemas on Šveitsi metal-bändide Dystera ja ArcanuM kontsert. Peale tähelepanelikumat lugemist selgus, et see üritus on tasuta ja ma rõõmustasin pööraselt. Niisuguseid tasuta üritusi on tänapäeval haruharva.
Klubisse sisenedes hakkas mu süda kiiremini lööma. Miks? Seintel rippusid pildid kuulsatest muusikutest, kes on Sissy klubis mänginud ja lakke olid kinnitatud elektrikitarrid. Niisugune asi paneb iga metali-sõbra / rokkari südame juubeldama.
Kontserdisaali jõudmiseks tuli minna läbi ülakorruse baari ja seejärel trepist alla. Siis veel paar meetrit ja olingi kontserdisaalis, kus kõlarites möirgas hard rock.
Aargau metal-bänd ArcanuM (Baden / Dättwil, Aaargau kanton) avas kontserdi tuliuute lugudega "Whatever" ja "Sinner". Laulja Gabriella Vari võlus oma käheda rasplisarnase häälega ja juhtkitarrist Sile hiilgas oma riffidega. Kui Sile meloodilised kitarririfid meenutasid Iron Maidenit, siis laulja Gabriella kõlas pisut nagu Betsy Weiss (USA metal-bändi Bitch laulja). Suurepärane, 45 minutit kestnud etteaste lõppes looga "Rain" ja ArcanuM oli publiku südamed võitnud.
ArcanuM laulude mängukava
Whatever
Sinner
All Hallow's Eve
I gonna fall
Tragedy
Rules
Fight
Not alone
Metal Soul
Fallen Angel
Crashed Soul
Rain
Pärast 15-minutilist vaheaega oli järg peaesineja Dystera käes. See Baseli metal-bänd oleks 2009. aastal peaaegu laiali läinud, kuid bändi liidril Dominik Genetol õnnestus siiski leida uued muusikud ning lisaks sellele sai ta mikrofoni taha lauljaks Olivia Bärtschi, kes on enam kui võrdväärne asendus endisele vokalistile. Laval kannavad muusikud kostüüme, sest muusika taga on lugu, mida tuleb ka visuaalselt edasi anda.
Esimeseks looks oli "Voice of the Shadows" ja bänd andis algusest peale täisgaasi. Nende segu symphonic power metalist ja keldi folgi sugemetest flöödihelide kujul võeti publiku poolt vaimustusega vastu ja igale laulule järgnes vägev aplaus. Laulja Olivia ei näinud mitte ainult lahe välja, vaid veenis fänne ka oma karismaatilise esinemisega ja ingelliku häälega. Seda, et see kaunis naine on õppinud klassikalist laulu, oli kohe kuulda ja nüüd näitas ta kogu oma vokaalset repertuaari. Samal ajal küttis kitarrist Dominik Geneto publikut oma riffidega üles. Rahvas plaksutas vaimustunult kaasa ja õõtsus muusika rütmis. Selleks, et kogu tervik akustiliselt lahedalt kokku kõlaks, andis oma panuse Ralph Kersten basskitarril.
Pärast viimase loo "A traveler's destination" kõlamist, hakati nõudma lisalugu. Enne kui publik oma tahtmise sai, laulis Dystera laulu sünnipäevalapsele Elvis Testerile. Publik läks sellega kaasa ja laulis samuti, enne kui taasesitusele tulid kaks esimest lugu "Task of the sages" ja "Traveling the land".
Dystera lugude mängukava
Voice of the shadows
Task of the sages
Judgement of the wise
Traveling the land
Plight of the knights
Tunes of holy war
Hopeless
A traveler's destination
Kontsert oli lõppenud. Ära ei läinud aga keegi. Lõpuks said kõik kontserdikülalised veel tüki kooki. Ühiselt nauditi nii kooki kui koosolemist.
See, mida Dystera täna õhtul tegi, oli lihtsalt erakordne! Kui te ei ole seda bändi veel elavas esituses näinud, siis on selleks viimane aeg!
geschrieben von Dominic Latscha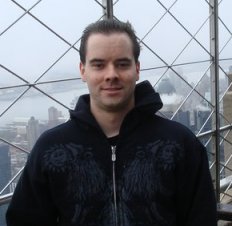 GM Editor für die Schweiz