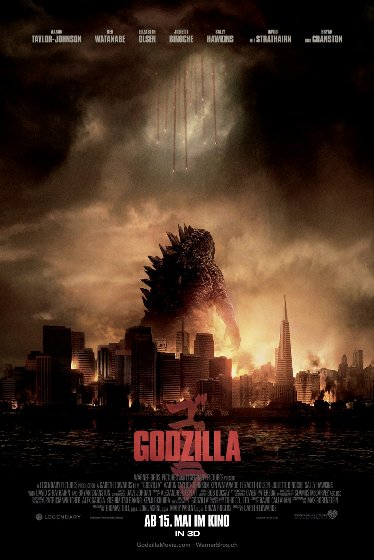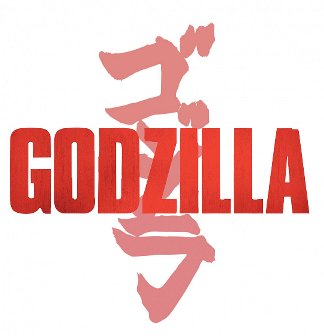 GODZILLA
Warner Bros. Pictures and Legendary Pictures present a Legendary Pictures production, a Gareth Edwards film, "Godzilla."
Director
Gareth Edwards


Cast
Aaron Taylor-Johnson, Bryan Cranston, Elizabeth Olsen, Juliette Binoche, David Strathairn,
Ken Watanabe.

Genre
Action / Sci-Fi / Thriller

Web
http://www.godzillamovie.ch

Screenplay by Max Borenstein, story by David Callaham, based on the character "Godzilla" owned and created by TOHO CO.,
LTD. Thomas Tull produced the film, along with Jon Jashni, Mary Parent and Brian Rogers. Patricia Whitcher and Alex
Garcia served as executive producers, alongside Yoshimitsu Banno and Kenji Okuhira.
The film will be presented in 3D, 2D and IMAX® in select theatres and is distributed worldwide by Warner Bros. Pictures, a
Warner Bros. Entertainment Company, except in Japan, where it is distributed by Toho Co., Ltd.
Legendary Pictures is a division of Legendary Entertainment.
"The arrogance of man is thinking nature is in our control,
and not the other way around...LET THEM FIGHT"
—Dr. Serizawa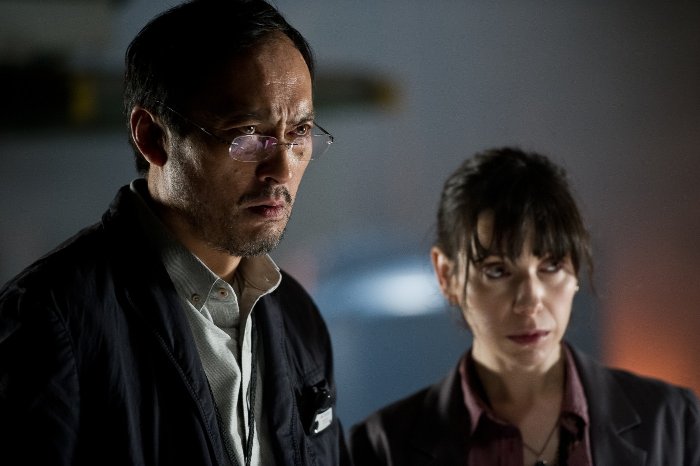 "A God , a Monster"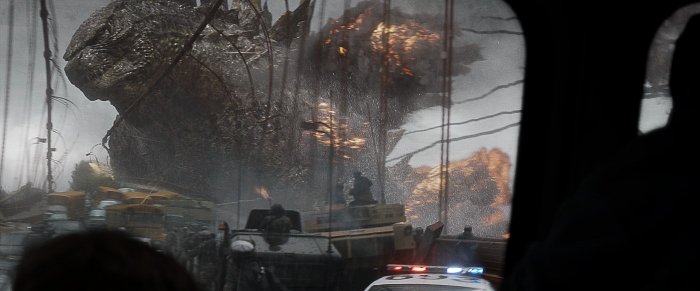 "Monsters have always been metaphors for something else," Edwards notes. "They represent the darker aspects of our nature and our fears of what we can't control. In a way, Godzilla almost embodies a kind of 'wrath of God'—not in a religious sense, but rather nature coming back to punish us for what we have done to the world. In our film, we are definitely tapping into those ideas."

It is a long road from 1954 till 2014 (in 1954, Japan's Toho Co., Ltd., released Ishiro Honda's movie "Godzilla") yet the epic creature Godzilla never fears age, never fears indifference throughout all this time. Godzilla is the archetipe of everyting we love and hate. This is the fascination of a mysterious mighty nature, of dinosaurs and other malevolent creatures from past ages . Godzilla is the fascination of titanic force, Godzilla means power. Maybe the power, each of us would gladly have. Now Warner Bros. Pictures and Legendary Pictures give a rebirth to Toho`s Godzilla. Believe me, this a golden occasion for the younger generation, which can be the true target of the movie. Nonetheless this close encounter with the king of the monsters will be a pleasure for everybody, in particular for the "Toho fans"...because the plot (which could have been even more articulated) shows a certain degree of movement and a kind of not too predictable development embellished by majestic special effects. Aftermath and apocalyptic devastion are spread in great measure together with conspiracy theories and uncomfortable secrets. The creatures are as brutal as in "Pacific Rim", maybe even more. The movie brings us from Philippines to Japan and to USA.
"With 'Godzilla,' you're dealing with a mythical monster, and w
hat's interesting visually is the juxtaposition of the tiny moments that people experience, and then pulling back to witness the scale of the great monster behind them
," McGarvey relates.

"
When you see a person against this 350-foot-tall creature, that clash of the micro and the mega, it draws your breath."
Godzilla hunts and fights indeed two titanic creatures of another species, also identified as M.U.T.O. (massive unidentified terrestrial organism, while soon one of them will be no longer terrestrial , but rather airborne as Admiral Stentz says in the film). These male winged and female bug- legged M.U.T.O. are parasites attracted to radioactivity. Do you know the popular saying "the enemy of my enemy is my friend"... Godzilla saviour of mankind?
"We made a choice about how to reveal Godzilla to the world in this film," says director Edwards. "It was a difficult choice, but it has to do with the question of whether Godzilla is good or bad. I think he represents something entirely different. It's like asking if a hurricane is good or bad. Godzilla is a force of nature, but its more violent, unpredictable side.
What he's up against in our film very much represents our abuse of nature, so when Godzilla rises, it's to set things right."

Still i have not said that Godzilla is the protagonist of the movie. Right you read well: if you think that Godzilla is the protagonist of the movie, you are totally wrong, in my opinion. Protagonist of this movie is once again the Americ soldier. Even better if set in plural: American soldiers: sons, husbands and fathers that must jump in the turmoil, wherever it may happen. Unfortunately it is really so in real life: USA in permanent in alert, permanent in a war condition, while we Europeans are bored and have nothing better to do that demolish our very home, Europe, beyond any politic or economical consideration. The movie's portray of sailors and other U.S. forces is very accurate. The hero of the film, Ford Brody, is a Naval officer specializing in disarming bombs, married and with a young son. Edwards staged three scenes onboard the USS Missouri, with the historic "floating memorial" standing in for the massive USS Saratoga battleship that tracks Godzilla across the Pacific. Moving to the adjacent Hickam Air Force Base, Edwards shot Aaron Taylor-Johnson within an actual C-17 aircraft to depict the moments just prior to his HALO plunge into San Francisco. "It turns out that a lot of people in the Department of Defense are massive Godzilla fans too," Edwards smiles, "and I think they got a kick out of participating in this movie."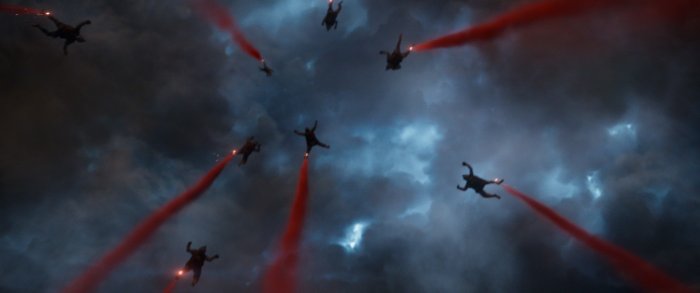 Let's mention that the film stars an international ensemble cast led by Aaron Taylor-Johnson ("Kick-Ass"), Oscar® nominee Ken Watanabe ("The Last Samurai," "Inception"), Elizabeth Olsen ("Martha Marcy May Marlene"), Oscar® winner Juliette Binoche ("The English Patient," "Cosmopolis"), and Oscar® nominee Sally Hawkins ("Blue Jasmine"), with Oscar® nominee David Strathairn ("Good Night, and Good Luck," "The Bourne Legacy") and Emmy® and Golden Globe Award winner Bryan Cranston ("Argo," TV's "Breaking Bad").
Personally i like the figure of scientist Dr. Ishiro Serizawa who works for a group called Monarch, played by Ken Watanabe . "I feel that Japan and, really, the entire world, are facing similar challenges today as we were at the time the first film was made," Watanabe reflects. "Godzilla cannot be separated from the nuclear element, and serves as an urgent reminder that we have to look to the future and think about what kind of world we want to have. So, when I read the script, I was impressed that Gareth's film maintains Godzilla's connection to the consequences of trying to harness forces we barely understand."

Last but not least, let`s not forget Godzilla`s roar. "That roar is probably the most famous sound effect in film history and we wanted to pay homage to it while creating something new," Aadahl says. "We wound up recording hundreds of different sounds that had the same qualities and timbres as the original and finally stumbled upon the combination that gave us all goose bumps. Ultimately, we wanted for it to convey all of the power and ferocity of Godzilla as a force nature, for people to close their eyes, hear it and instantly know, 'That's Godzilla!'"


7.9/10
review by dalia di giacomo and official production notes