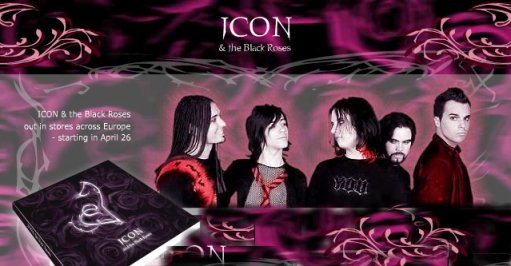 It was 2001, when I had the pleasure to listen to a band called "Blue Obsession"; an amazing band from Portugal , in which I appreciated their romantic way to play Lovemetal. In my opinion, one of those who were able to take the best from Him! The single "Remember" is a jewel that I can't forget...it's still in my heart like a rose that still leaves a nice smell!One of those songs that comes out listening to Him, but full of charm and depth, and very far from all those crappy clone bands!
It's 2004. They're back....Please attention and try to read this review! I propose you to listen to these 4 songs that are available for free download, and I'm sure that you'll buy the album at the end of April! First of all the band has changed its name. The sound gets a particular charm...far from any other band, and I can affirm that if you like Depeche Mode, Him and Modern Gothic influenced by dark elements you can't but love this band!!!!
Their sound is very deep and their romantic melodies get a particular charm able to touch the hidden part of the soul.
The first single of this promo is something special!! Angel is what the soul discovers in its hidden part.The singer reminds me of Depeche Mode and the music is a mix between melancholic rock and modern Goth. In the refrain I notice a charm that reminds me of a very sad Supertramp song..."Better days". Do you know? Of course the sound is very different, but I can't but admit that everything is ok.
Black Rose is another caress from the soul. In my mind I try to find similar bands....Here I notice London After Midnight, The Cure, Him, Depeche Mode, The Cult influences, but I underline that they play in a very personal way!
Crucify you Love is a song dedicated to all Him fans. Try to listen to it, and I'm sure that Razorblade Romance will be a remembrance!!! A romantic refrain that would have been perfect for a Him album. The singer sings with an unforgettable expressiveness and the band is able to create an amazing mood....there are simply emotions!
Set me on fire is another dark jewel, in which they are able to mix dark, gothic, melodic metal. Johnny is simply a fantastic singer, as well as the band is able to create perfect rhythmic parts that put in evidence the depth of melodic parts. I can't give an opinion about the production because I have to wait for the full release, but I can affirm that the arrangements are very good! They're able to take the deserved success. I'm already waiting for 26th April......