---
Every song is heavy as hell.
Outcast is very acceptable and I cannot wait to hear more things.
I absolutely love it when I get to hear a French metal band. France is such a misunderstood and least looked at country when it comes to metal. Honestly, I don't think the average American metaler can even name a single band from France. Okay, maybe Gojira, but that's it. I could mention the two that I know, Lycosia (I don't even know if they're still around) and Dagoba , and that's it. France has got some of the richest art and history of art in the world. France? Metal? Can someone (yes I'm talking to record labels here) look into Paris, Orleans, Cannes, or some other French city for some metal? Please? Thank you.

Okay, back to the music. Who is Outcast and why should anyone listen to this band? Let me start out with that they are a close-match with melodic-death metal as a genre. I don't wish to compare this band with other bands of that genre, however I would like to point out what makes them stand out against the a-typical MDM band; Mainly the singing. The singing is a monotonous shouting, not Tom Araya shouting, but he would be the closest comparison when it comes to the singing on this album. I'm not saying it's bad but I think Outcast could work on this, if they combined more melodic singing, they'd be even more of a fantastic band.


I hate the way this is going to sound, but the music has no hooks. There's isn't a track that immediately catches my ear that makes me want to listen to a single track over and over again. "Awaken," is one of those albums where it's nice to have the CD (or however one listens to music) playing in the background as someone is playing video games, cleaning, driving at night, and that sort of thing. It's not a very good album to run to though. It's not bad, but the music gets kind of redundant after awhile. It's not bad music and it doesn't suck by any means, but it's not grabbing my attention. The guitars sound great, the drumming is done skillfully, the bass can be heard, the vocals…I've already talked about them. The composition of the songs are great and this is a very professional sounding band that has they're shit together, but I feel they have one more step to take. The singing needs another dimension to it. His tone is fine, but it needs variation.

If I had to point out a few tracks that stood out to me, "Spin Angular Momenta" was one and "Isolation" is the other. I really like Spin, possibly because it has some backing singing in it? Yes, but it also sets a mood. A band that can write this way has a lot of potential! The guitar riffs in it do have some hooks to it and there are parts in the song where they sound like a prog-band. The guitar solos in here are the best I've heard in a long time. The singing…(I know, I've mentioned this a few times already, bare with me) varies from the monotnous shouting to high-low screams, tag-teaming back and forth with each other and just when the listener gets used to a certain way the song is going, the band changes it up a bit and gives off this dark overtone throughout the song. I love this track! One tiny tiny complaint though and it has nothing to do with the band but more for the producer and engineer…why oh why did you cut off the song abruptly!?!? It should have had a faded ending! It would have sounded a lot better!!!
"Isolation" is a good track, it paints emotions and sets landscapes such as "Spin" but it doesn't have the vocal variations. It does change up the guitar riffs and the musical parts like Spin, where it kind of sounds like a metal-prog band. My issue with the song, is that it's just way too long. 9+ minutes, I can't run to this song without getting a little bored of listening to it. Forgive me everyone, as I am getting older my attention-span is waning. "Iso" is a great song that was composed greatly, it's heavy and moody at the same time.

Bottom line:
The recording quality is excellent. The listener should be overjoyed at this fact. Also, the band is very heavy and very technical and at times sounds very moody. I would classify them as melodic-death metal but I think this band has so much potential. If the band reads this, "Spin" sounds so good! Vocals in this song should be in every song.

The best point I should make is that every song is heavy as hell. There isn't a single track that isn't except "Awaken the Reason" and it's reprise. Outcast is a technical band that's very heavy and is loaded with precision. I give them my full recommendation, which, these days, is hard to come by. The older I get, the pickier I am getting about the music I listen to and what I deem as acceptable. Outcast is very acceptable and I cannot wait to hear more things.

8/10

written by Matthew Haumschild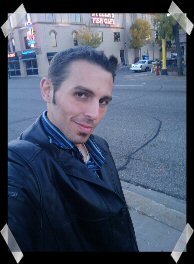 GM Chief Editor in the USA