Fotos und Livebericht von Dominic Latscha
Together with Amnesty International.
Only two days until Christmas! The same pesky Christmas songs get played over and over on the radio. It almost drives you insane and somehow you try to get away from that biased stuff. The World KHAOS Tour with Arch Enemy is perfectly timed. The American Thrash Metal act Warbringer and the Taiwanese Black Metal act Chthonic act as support and the tour ended at the Z7 venue.
It took a long time waiting to get inside. The Swiss New School of Death Metal act Erupdead from Basel, Swiss canton of Basel-City, Switzerland started playing at 7:10 PM. They got this show by winning the Century Media Voting Contest and showed what they had right from the beginning. The audience liked it and gave them standing ovations. Singer Sebi thanked the Z7 venue for this chance to play with big bands. Their show ended after 30 minutes with "The Source of Evil". The current show is definitely a highlight in their career.
Setlist Erupdead
Media addict
Burn the Symbol
Plastic Doll
Letters to Mars
Unite
The Source of Evil
ERUPDEAD
<![if !vml]> <![endif]>
<![if !vml]> <![endif]>
<![if !vml]> <![endif]>
<![if !vml]> <![endif]>
photos by Dominic Latscha ©GryphonMetal
Taiwanese Chthonic was next in line. I didn't know much about this band and checked out two or three songs after the Chinese intro. But I found their music uncomfortable and left to catch a fresh breath of air.
But what I liked was the beautiful Bass player and Background singer Doris Yeh, who is a real Asiatic dream woman and many men couldn't take their eyes off her that night. By the way: You can see the beautiful Doris in the Chinese FHM magazine!
CHTONIC
<![if !vml]> <![endif]>
<![if !vml]> <![endif]>
<![if !vml]> <![endif]>

photos

by Dominic Latscha ©

GryphonMetal
Warbringer were on the program with Thrash Metal which I liked as many others. A roadie came on stage before the band appeared and explained that he had a great time with the Americans. The audience were asked to turn their backs on the band when they started playing. The Warbringer guys looked fooled but as everybody turned to face the band when the music started you could see the newly designed band logo. The logo said War Inc. instead of Warbringer. Singer John Kevill was very amused about the whole situation. There after the Californians kicked off and pumped the venue. The guitar players Adam Carroll and John Laux rocked the stage. Meanwhile singer John rushed from left to right in order to bring all the fans to ecstasy.
There were more people than ever and they celebrated every song. Some Thrash Metal maniacs created a circle pit and moshed against each other as if there were no tomorrow. A successful cover version of the Motörhead classic "We are the road crew" followed, which was well-received by the public. And their last kick ass track "Combat Shock" left much destruction and scorched earth.
WARBRINGER
<![if !vml]> <![endif]>
<![if !vml]> <![endif]>
<![if !vml]> <![endif]>
photos by Dominic Latscha ©GryphonMetal
Arch Enemy was the headlining act. Angela Gossow and the guys about guitar magician Michael Amott and his brother Christian Amott, bass player Sharlee D'Angelo and drummer Daniel Erlandsson did an impressive performance. Angela also told the audience, that her sister moved to Switzerland a short time ago. Now, she would have a family member in this beautiful country.
The performance was accompanied by two screens on the left and on the right side of the stage. They showed pentagrams, flashes, scenes of war and the lyrics. Then a short trip into Politics followed. Angela explained that the band would work together with Amnesty International on this tour and much trouble is going on in this world. Particularly in Lybia and Syria where Metal fans mustn't wear T-shirts of such bands, because they have to bear the consequences of getting arrested, physical violence or even worse.
Between, Angela brought a black flag on stage and waved inwards and outwards toward spectators and rushed from left to the right, so that everybody could see it.
The encore "Nemesis" sounded after the regular show, which was played with an instrumental part. Then the show finished and the band said goodbye to the spectators for their great effort.
In my view Politics have no place in Metal. Although it's great to see, that there are still people in this kind of music, who care about anything and don't ignore everything else.
ARCH ENEMY

<![if !vml]> <![endif]>
<![if !vml]> <![endif]>
<![if !vml]> <![endif]>
<![if !vml]> <![endif]>

photos

by Dominic Latscha ©

GryphonMetal
World KHAOS Tour 2011
Arch Enemy (SWE), Warbringer (US), Chthonic (TPE), Erupdead (CH)
Z7, Pratteln, Kanton Baselland, Schweiz – 22.12.2011
Es sind noch zwei Tage bis Heiligabend. Wie jedes Jahr werden die gleichen, nervigen Weihnachtslieder im Radio rauf und runter gespielt. Man verfällt beinahe dem Wahnsinn und will sich irgendwie von dem ganzen Mist ablenken. Da kommt die World KHAOS Tour 2011 mit Arch Enemy wie gerufen. Die amerikanischen Thrasher Warbringer und die taiwanesischen Black Metaller Chthonic bekamen die Support Slots und im Z-7 fand die Tour ihren Abschluss.
Nach einer längeren Wartezeit wurde man reingelassen wo die New School of Death Metal Band Erupdead aus Basel, Kanton Basel-Stadt, Schweiz um 19:10 Uhr den Abend eröffneten. Den Auftritt hatten sie sich im Vorfeld durch den Sieg beim Century Media Voting Contest gesichert und zeigten von Anfang an was in ihnen steckt. Dem Publikum gefiel die Musik und belohnte die Basler mit viel Applaus. Sänger Sebi bedankte sich beim Z7 für die Chance am heutigen Tag mit den grossen Bands spielen zu können. Mit "The Source of Evil" endete ihr Auftritt nach 30 Minuten. Der heutige Auftritt gehört definitiv zu ihren bisherigen Karriere-Highlights.
Setlist Erupdead
Media addict
Burn the Symbol
Plastic Doll
Letters to Mars
Unite
The Source of Evil
Dann waren die taiwanesischen Chthonic an der Reihe. Ich wusste nicht viel über die Band und schaute mir nach dem chinesisch klingenden Intro zwei bis drei Songs an. Ihre Stilrichtung löste bei mir jedoch Unbehagen aus und ich ging Luft schnappen.
Was mir aber gefiel, war die hübsche Bassistin und Backgroundsängerin Doris Yeh, die ein wahrer fleischgewordener asiatischer Männertraum darstellt und an dem Abend ein Blickfang vieler Männer war. Übrigens: Die hübsche Doris konnte man in der chinesischen Ausgabe von FHM zu bewundern!
Mit Warbringer stand dann Thrash Metal auf dem Programm, der mir und den anderen Zuschauern zusagte, die sich vorhin ebenfalls vor dem Club die Beine vertraten. Bevor die Band die Bühne betrat, erschien ein Roadie auf der Bühne und erklärte, dass er eine tolle Zeit mit den Amerikanern hatte. Nun sollte sich das Publikum umdrehen und ihnen den Rücken zeigen, wenn sie nachher anfangen zu spielen. Die Warbringer Jungs guckten blöd aus der Wäsche.
Als die Musik einsetzte drehten sich alle um und konnten das neu gestaltete Bandlogo betrachten. Anstatt Warbringer stand dort War Inc. Sänger John Kevill fand die ganze Aktion sehr lustig. Danach legten die Kalifornier los und brachten die Venue zum kochen. Die Gitarristen Adam Carroll und John Laux rockten die Stage während Sänger John von einer Seite der Bühne zur anderen lief, um alle Fans in Ekstase zu versetzen.
Es waren auch mehr Leute am Start und jeder Song wurde abgefeiert. Einige Thrash Metal Maniacs schufen einen Circle Pit und moshten gegeneinander als gäbe es kein Morgen. Eine gelungene Coverversion des Motörhead Klassikers "We are the Road crew" folgte, die beim Publikum gut ankam. Und mit der Abrissbirne "Combat Shock" wurde mit dem letzten Song viel Zerstörung und verbrannte Erde hinterlassen.
Arch Enemy spielten als Headliner. Angela Gossow und ihre Jungs um Gitarren Magier Michael Amott und sein Bruder Christopher Amott, Bassist Sharlee D'Angelo und Schlagzeuger Daniel Erlandsson zeigten eine beeindruckende Show. Angela teilte ausserdem mit, dass ihre Schwester vor kurzem in die Schweiz gezogen ist und sie jetzt Familie in diesem schönen Land hätte.
Untermalt wurde die Performance mit zwei Monitoren auf der linken und rechten Seite der Bühne wo Pentagramme, Blitze, Kriegsszenen und die jeweiligen Songtexte erschienen. Dann folgte ein kurzer Ausflug in politische Gefilde. Angela erklärte, dass sie für diese Tour mit Amnesty International zusammen arbeiten würden und dass im Moment viel Chaos auf der Welt herrscht. Speziell in Ländern wie Lybien und Syrien wo Metal-Fans nicht einmal entsprechende T-Shirts von Bands tragen dürfen, weil ihnen sonst Konsequenzen in Form von Arrest, Körperlicher Gewalt oder noch schlimmeres droht.
Dazwischen holte Angela eine schwarze Fahne auf die Bühne und schwenkte sie in Richtung Zuschauer und lief von links nach rechts, damit jeder sie sehen konnte.
Nach dem regulären Set erklang mit "Nemesis" die obligate Zugabe, die noch mit einem instrumentalen Part gespielt wurde. Dann war der Abend zu Ende und die Band verabschiedete sich bei den zahlreichen Zuschauern für den tollen Einsatz.
Meiner Meinung nach hat Politik im Metal nichts zu suchen. Allerdings ist es schön zu sehen, dass es auch in diesem Genre noch Leute gibt denen nicht alles egal ist.
review and photos by Dominic Latscha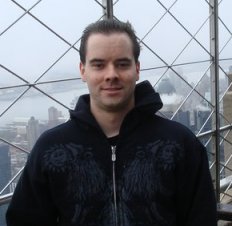 Dominic Latscha is local editor for Switzerland. He is reviewer for gryphonmetal.ch since 2010. More in the Team section.