Death Takes A Holiday Tour 2011
Lizzy Borden (US)
Martyr (NL)
Silence Lost (CH)


Rock City, Uster, Swiss Canton of Zurich, Switzerland – November 26th 2011
Photographs and Live report by Dominic Latscha
French Translation by Julien Zemp
www.lizzyborden.com
www.myspace.com/lizzybordenband
www.silence-lost.ch
www.martyronline.nl
in English - in German
- in French
There is real music out there.
Real music with passion is extremely hard to find these days. Mainstream audiences prefer watching casting shows and on the radio the same 15 pop songs get played over and over.

But there is real music out there and you recognize it from some heroes from the glorious 80's, who are still here. One of these bands is Lizzy Borden. The Americans from Los Angeles, California USA swung their own thing since back then. They even survived the Grunge era and the Nu Metal / Crossover hype.

That's the reason why I was so excited about their second Swiss show since their first show in August 2010 at the Rock City in Uster, Switzerland. The Dutch band Martyr and the Swiss Silence Lost were the support acts.

Silence Lost opened the event. The Argovians gained attention with the video "Slaves", which looped throughout the show and "Roboclip" which was on SF 2 (Second Swiss Television). Furthermore, they won the little PRIX WALO 2010 and also played live on stage at that event. They lived the music in every single second instead thousands of other bands, which only play without any emotion. You noticed the joy and harmony in this band. The music reminded me of a mix from Iron Maiden & Queensrÿche particularly due to the vocals of singer Caruso. The great performance ended with "Down by the ocean".

Setlist Silence Lost

Bad Deal
Now
He Died For Nothing
Now Is The Time
In Rememberance Of You
Slaves
Show Me The Way
Pay For It
Down By The Ocean


The legendary Metal band Martyr from Netherlands was up next. They issued the records "For the Universe" and "Darkness at Time's Edge" in the 80's and disappeared. Now they are back again. One day before, their first Swiss show was with Tokyo Blade at the Rock City venue.

The guitarists Rick Bouwman and Marcel Heesakkers looked like fucked up hippies when they entered the stage first. Only singer Rop van Haren was 40 years old and looked a little bit healthier. They did their best even when most of the band were more than 50 years old and gained the attention of the audience.

Singer Rop van Haren left the stage during every song to show the fans their appreciation and sent some fans on stage for head banging. And when he felt heated up, he poured water on himself in front of the stage. His entertainment skills were convincing and resulted in additional ovations during the guitar solos by players Bouwman and Heesakkers who played tremendous guitar duels like Tipton/Downing. For me personally, Rop is a mix of Motörhead's Limmy Kilmister, Dimebag Darrell (R.I.P.) and Anvil's Steve Lips. This set showed that the Dutch are well back on track.

Setlist Martyr

Intro - D.I.
Afterlife
The Uninvited
Art of Deception
Scene of Hell
Intro – All Warriors Blood
Speed of Samourai
Circle of 8
Insensible Scream
Most Evil One
Eaten Alive
Outro


Lizzy Borden could live it up. The Americans were able to generate ovations from the start g, because of their Alice Cooper – like theatrics. Visuals were fantastic with lots of costume changes. Lady Gaga's "Edge of Glory" was played shortly next to "Jinge Bells" and thunderous applause followed before "Eyes of a stranger" rang out.

Then the axe was introduced and Lizzy beat himself and a lot of blood flew out of his mouth. The spectators in the front row were covered in it. About 60 spectators sung "Happy Birthday" to Marten Andersson, because it was his B-Day.

The band left the stage after about 90 minutes and the audience shouted loudly for encores. First, drummer Joey Scott did a drum solo and "Notorious" and "Master of Disguise" were the last songs. Singer Lizzy Borden, Guitar players AC Alexander & Dario Lorina, Bass player Marten Andersson and drummer Joey Scott said goodbye to the enthusiastic audience.

Neverthless the very attractive blonde dancing lady from the last concert was missing in this show.

After that, Lizzy Borden gave Autographs and posed for photographs with fans.
---
zum Seitenanfang
top - inizio pagina
Deutsch
Death Takes A Holiday Tour 2011
Lizzy Borden (US)
Martyr (NL)
Silence Lost (CH)
Rock City, Uster, Kanton Zürich, Schweiz – 26.11.2011
Fotos und Livebericht von Dominic Latscha
Französische Übersetzung von Julien Zemp
In der heutigen Zeit ist es schwer echte Musik mit Leidenschaft zu finden. Das Mainstream-Publikum gibt sicher lieber Casting Shows hin und die 15 gleichen Popsongs werden im Radio rauf und runter gespielt.

Doch es gibt noch richtige Musik und die erkennt man auch daran, dass einige Helden aus den glorreichen 80er immer noch da sind. Eine dieser Gruppen ist Lizzy Borden. Seit damals haben die US-Amerikaner aus Los Angeles, Kalifornien ihr eigenes Ding namens "American Metal" durchgezogen. Sogar die Grunge Welle und den Nu Metal / Crossover Hype haben sie unbeschadet überstanden.

Deshalb freute ich mich auf ihr zweites Schweizer Konzert nach ihrem ersten Auftritt im August 2010 im Rock City in Uster, Schweiz. Als Support traten die Holländer Martyr und die Schweizer Silence Lost auf.

Silence Lost durfte den Abend eröffnen. Die Aargauer haben im Vorfeld durch das Video zu "Slaves" einige Aufmerksamkeit erregt, weil der Clip auf SF2 in der Sendung "Roboclip" gezeigt wurde. Ferner haben sie den kleinen PRIX WALO 2010 gewonnen und sind auch bei diesem Event aufgetreten. Anstatt die Songs wie viele andere Bands herunterzuleiern, wurde die Musik jede Sekunde gelebt. Man merkte die Freude und Harmonie, welche in der Band herrschte. Von der Musik her erinnerten sie mich an eine Mischung aus Iron Maiden und Queensrÿche was vor allem beim Gesang von Sänger Caruso deutlich wurde. Mit "Down by the ocean" endete der gute Auftritt.

Setlist Silence Lost

Bad Deal
Now
He died for nothing
Now is the time
In rememberance of you
Slaves
Show me the way
Pay for it
Down by the ocean

Darauf waren die legendären Heavy Metaller Martyr aus Holland an der Reihe. In den 80er haben sie die beiden Alben "For the Universe" und "Darkness at Time's Edge" veröffentlicht, ehe sie für längere Zeit in der Versenkung verschwanden. Nun sind sie wieder da. Am Vortag spielten sie im Rock City mit Tokyo Blade ihr erstes Konzert auf Schweizer Boden.

Als sie die Bühne betraten, dachte man die Gitarristen Rick Bouwman und Marcel Heesakkers wären heruntergekommene Hippies. Einzig Sänger Rop van Haren war gegen 40 Jahre alt und sah ein wenig vitaler aus. Auch wenn die meisten Bandmitglieder über 50 Jahre alt waren, gaben sie von Beginn weg alles und zogen das Publikum in ihren Bann.

Um den Fans ihre Wertschätzung zu demonstrieren ging Sänger Rop van Haren bei jedem Song ins Publikum und schickte sogar Fans zum Matte kreisen lassen auf die Bühne. Und als ihm plötzlich zu heiss wurde, übergoss er sich kurzerhand mit Wasser vor der Bühne. Selbst mit seinen Unterhaltungsfertigkeiten sorgte er für zusätzliche Stimmung während Bouwmann und Heesakkers mit Gitarrenduellen à la Tipton/Downing überzeugten. Für mich ist Rop eine Mischung aus Motörheads Lemmy Kilmister, Dimebag Darrell (R.I.P.) und Anvils Steve Lips. Mit diesem Auftritt haben sich die Holländer eindrücklich zurück gemeldet.

Setlist Martyr

Intro - D.I.
Afterlife
The Uninvited
Art of Deception
Scene of Hell
Intro – All Warriors Blood
Speed of Samourai
Circle of 8
Insensible Scream
Most Evil One
Eaten Alive
Outro

Als wäre dies nicht genug, konnten daraufhin Lizzy Borden einen drauf setzen. Dank der Theatralik, welche oft an Alice Cooper erinnert, konnten die Amerikaner von Beginn weg für viel Begeisterung sorgen. Aufgrund der vielen Kostümwechsel bekam auch das Auge was zu sehen. Neben "Jingle Bells" wurde auch Lady Gaga's Hit "Edge of Glory" kurz angestimmt und mit viel Applaus bedacht bevor "Eyes of a Stranger" erklang.

Dann kam die Axt zum Einsatz mit der Lizzy sich selbst schlug und viel Blut aus seinem Mund floss. Damit wurden die Zuschauer in der ersten Reihe angemalt. Weil Bassist Marten Andersson Geburtstag hatte, kam er in den Genuss eines lauten "Happy Birthday" von den ca. 60 Zuschauern.

Nach ca. 90 Minuten verliess die Band die Bühne worauf das Publikum lautstark nach Zugaben verlangte. Zuerst spielte Schlagzeuger Joey Scott ein Drum Solo und mit "Notorious" und "Master of Disguise" folgten die letzten Songs. Am Ende verabschiedete sich die Band um Sänger Lizzy Borden, Gitarristen AC Alexander & Dario Lorina, Bassist Marten Andersson und Schlagzeuger Joey Scott vom enthusiastischen Publikum.
Allerdings fehlte in dieser Show die äusserst attraktive blonde Tänzerin, welche beim letzten Rock City Auftritt dabei war.

Nach der Show vergaben Lizzy Borden Autogramme und man konnte sich mit Ihnen fotografieren lassen.
---
Français
Death Takes A Holiday Tour 2011
Lizzy Borden (US)
Martyr (NL)
Silence Lost (CH)
Rock city, Uster, Canton de Zürich, Suisse – 26 novembre 2011
Live rapport écrit par Dominic Latscha et traduit en français par Julien Zemp

Aujourd'hui, il est difficile de trouver une musique créée avec passion. Le grand public préfère les casting show et les 15 chansons qui sont constamment rejouées à la radio.
Pourtant il existe une vraie musique. La preuve en est que certains grands musiciens des belles années 80 sont aujourd'hui encore là. Un de ces groupe est Lizzy Borden. Depuis ce temps - là, ces Américains de Los Angeles ont gardé leur propre style, « l'American Metal ». Aussi les mouvements Grunge et le Nu Metal ont survécu sans grand dommage durant tout ce temps.
Le deuxième concert donné en août 2010 au Rock City à Uster, Suisse, par Lizzy Borden m'a beaucoup plu. Comme supports, ils avaient les Hollandais Martyr et les Suisses Silence Lost.
Le Groupe Silence Lost a ouvert la soirée. Les Argoviens, avec leur vidéo sur Slaves, ont très vite éveillé l'attention du public qui connaissait le clip, montré dans l'émission « Roboclip » sur SF2. En plus ils avaient gagné le petit PRIX WALO 2010 et ont joué leur musique lors de cet event. Au lieu de débiter sans vie leur musique comme le font d'autres groupes ils l'ont vécue. On a senti le plaisir avec lequel ils jouaient. Leur musique m'a fait pensé à un mélange entre Iron Maiden et Queensrÿche surtout dans le chant de Caruso. Leur belle présentation s'est terminée avec « Down by the ocean ».

Setlist Silence Lost

Bad Deal
Now
He died for nothing
Now is the time
In rememberance of you
Slaves
Show me the way
Pay for it
Down by the ocean

Puis ce fut le tour au groupe Heavy Metal « Martyr » de monter sur scène, ce groupe légendaire de la Hollande. Dans les années 80, leurs « For the Universe » et « Darkness at Time's Edge » étaient tombés un peu dans l'oubli. Mais les voilà à nouveau là et bien présents.. La veille ils avaient fait leur premier concert sur sol suisse au Rock City avec Tokyo Blade.
Les guitaristes, Rick Bouwman et Marcel Heesakkers , à leur entrée sur scène, nous ont fait l'impression de vieux hippies usés, déchus. Seul, le chanteur Rop van Haren, dans la quarantaine, paraissait un peu plus vif. Pourtant dès le début, tous les musiciens « la cinquantaine et plus » se sont donnés à fond et le public s'est laissé très vite entraîné et enthousiasmé.
Pour montrer l'estime portée à leurs fans, Rop est descendu dans la foule en chantant et a envoyé des fans sur scène. Vu la chaleur intense, il s'est arrosé d'eau sans hésiter devant la scène. Ses qualités de show men ainsi que Bouwman et Heesakkers avec leurs duos de guitares à la Titon/Downing créèrent une super ambiance et furent très vite convaincants. Avec cette apparition fulgurante sur scène, les Hollandais ont annoncé un retour impressionnant.

Setlist Martyr

Intro-D.I.
Afterlife
The Uninvited
Art of Deception
Scene of Hell
Intro-All Warriors Blood
Speed of Samourai
Circle of 8
Insensible Scream
Most Evil One
Eaten Alive
Outro

Il semble pourtant que cela ne suffit pas. Lizzy Borden en rajouta encore…. Grâce à leurs effets théâtraux, rappelant Alice Cooper, les Américains enthousiasmèrent le public dès le début. Les yeux des spectateurs furent gâtés par les divers changements de costumes des musiciens. Ces derniers commencèrent avec « Jingle Bells » puis vint le Hit de Lady Gaga « Edge of Glory » et sous une pluie d'applaudissements, « Eyes of a Stranger » retentit.
Puis la hache entra en action, hache avec laquelle Lizzy se frappa et fit couler beaucoup de sang de sa bouche. Les spectateurs du premier rang en furent un peu recouverts. Comme le bassiste Marten Andersson avait son anniversaire, il eut le plaisir d'écouter un « Happy Birthday » chanté avec force par environ 60 spectateurs.
Après 90 minutes environ, le Band quitta la scène sous les applaudissements du public qui demandait des morceaux en supplément. Le batteur Joey Scott présenta encore un Drum solo, suivi par «Notorious» et « Master of Disguise », les derniers songs. Puis le groupe constitué par le chanteur Lizzy Borden, les guitaristes AC Alexander&Dario Lorina, le bassiste Marten Andersson et le batteur Joey Scott prirent congé de leurs fans exaltés.
Pourtant, il manquait dans ce spectacle, la danseuse blonde très attractive, présente lors du dernier show au Rock City.
Après le concert Lizzy Borden distribuèrent des autographes et l'on pouvait aussi se laisser photographier avec eux.


27.12.2011
LIVE REPORTS/FOTOS
SWISS
UNDERGROUND
EXCENTRIC (CH), FROZENROOM (CH)
Rockbar, Sissach - October 29/2011
---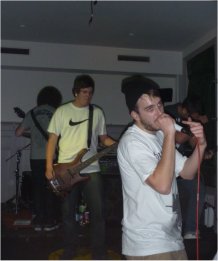 SWISS
UNDERGROUND
DESTROYER NIGHT 1
The Haverbrook Desaster (DE), Darrow (CH),
Novel of Sin (IT), Sweet Massacre (CH)

Youth- und Culture Center Tramstation, Münchenstein, Switzerland – October 28th 2011
---
Alter Bridge (US)
Black Stone Cherry (US)
World Tour III
Town Hall, Bülach Switzerland, October 21st, 2011
---
Pretty Maids (DK)
Official DVD Recording
Z-7, Pratteln, Switzerland – October 01

st 2011
---
with
GORGOROTH - MARDUK -
LEGION OF THE DAMNED
VOMITORY a.o.
09-10 September 2011
Hüttikon (CH)
---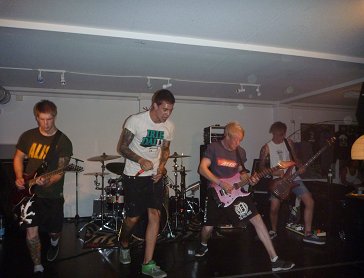 SWISS UNDERGROUND
Scarred by Beauty (DK), The War We Lost (CH), Erupdead (CH)
PurplePark Gundeli, Basel, Switzerland – August 18 2011
---
SUMMER CAMPAIGN 2011 at Dynamo in Zürich 18.06.2011
VADER, KRISIUN, ESSENCE, DARKMOON
---
SWISS UNDERGROUND
PIGSKIN , COILCRY
WAR WE LOST , WHAT THE HELL
Rock City, Uster - 04.06.2011
---
SWISS UNDERGROUND
EXCENTRIC (CH)
"White Knuckle Ride"
Red Rocks, Basel - 01.06.2011