INTRO
Boris
So, here we are at time in front of the "Jugendfreizeithaus" in Allschwil. It's nice to see that there are already a lot of people coming, but unfortunately, we have to wait a long time, because the entrance doesn't begin at seven thirty, but short before eight. But finally, we are in and I remark, that it's little, but nice and friendly. It's also funny to have a look at the two guys from the security; they wear an elegant dress and cravats.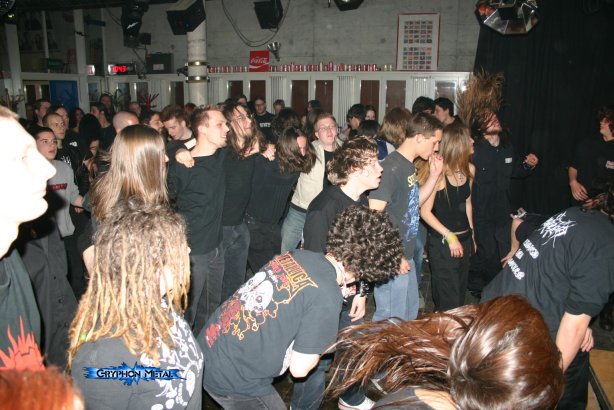 DUBHDROIACHT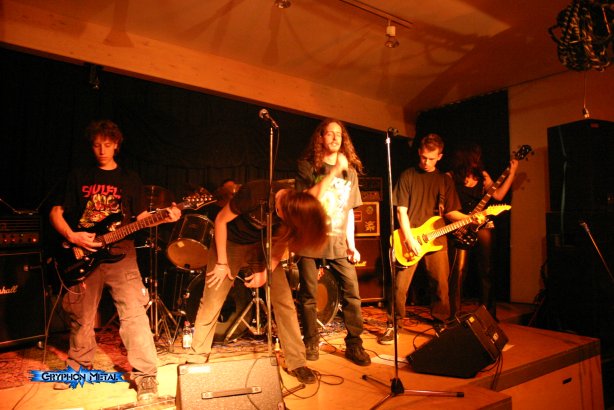 Boris
For Dubhdroiacht it's the first gig ever, and it's easy to see that they are pretty nervous. A last handshake, then the gig starts. And I have to say that I am very surprised in a positive way. The sextet (including a female bassist) play a mixture between Death and Medieval Metal, and they have also a flutist, who plays very great melodies, and soon I get goose-skin. The sound is loud and clear, and already at this point, the atmosphere is very good. The second song is a cover, "Warmachine". Yeah, Kiss rules. The first heads begin to bang and Dubhdroiacht get very warm applause and they are obviously very content. "The next song is also a song which some of you may know – Roots Bloody Roots!" Fantastic! I never heard a better cover of that classic (actually, it's the first cover of "Roots…" I ever hear, but it doesn't matter) and now there are more and more banger. Dubhdroiacht play very tight and they don't make any big faults, so it's great to listen to them. The following song is also a cover, "… from an old Hippie-song which we destroyed a bit!" I know the song, but I don't remember the name of it. The last song is again one from the band, and again the mixture of hard riffs, aggressive vocals and tender and fragile flute-melodies is great. Of course the crowd wants more, and because Dubhdroiacht haven't any other songs in the repertoire, they play the first one again. Excellent done, ladies and gentlemen!
BRAINDEAD
Boris
The next band is Braindead. A friend told me that they are very good, and I have to agree. This is groovy Thrash Metal, with clean vocals and always animating to bang your head. Frontman David has a special, but very own voice, and there is another woman in the band, Nicole on the guitar. The little room is as good as full now and there's also a little moshpit. Because Braindead will bring out their new album soon, they play all new songs. And I think this album really must be a killer! Because their lyrics are often about Aliens, they have one made of tone, which is standing on stage, in front of singer and guitarist David. They have also some very calm songs, which give the people the possibility to recover a bit.
During the gig, a strange thing happens: After the first half, more and more people leave, and at the end, there are only about 20 persons left. This is really bad, dear Metalheads! But Braindead continue like the room would be full, and David always says that we are a great audience and it would be cool to play for us. The people who stayed make noise and bang their heads, so when Braindead finish their gig, the band is content and also the fans who stayed until the end. Cool, but with a weak audience.
Setlist Braindead
Intro
Braindead
Thrash Metal Song
Sudden Death
Fighting For My Way
Self-Projection
Fly Away
Holy Man
Silence Is My Friend
Dominion Of Hate
Another Waste Of Time
For You
Afraid Sweat
What Lies Beneath
Hostage Of Metal
Boris Witta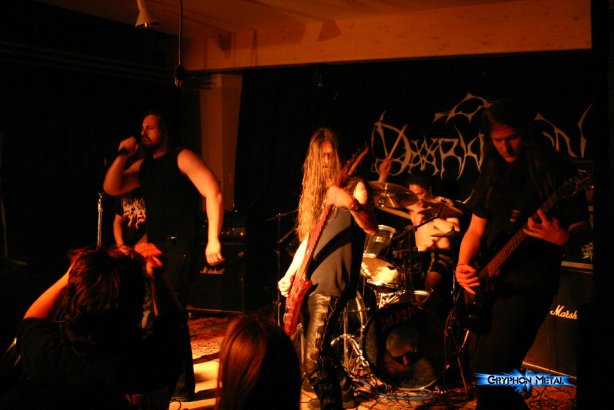 Dalia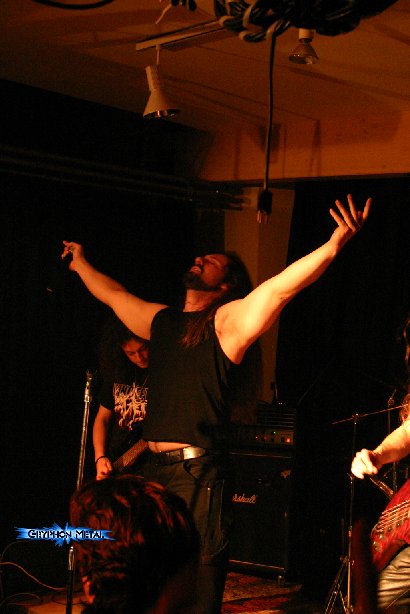 At the core, it's Darkmoon the band everyone wants to see this evening: the audience, totally composed of die hard fans of Death, though having attended with different degrees of appreciation, like Boris says, the first bands, is completely on board and attracted when it's Darkmoon. And me too. I must be honest telling that this evening i am here for them only, though i was attentive at the previous music. I came across Darkmoon last year and it was revelation for me : impressive music delivered by the mini CD Black Domain, impressive concert at the VI Metal Forces. Their songs still today hold a high place in my personal playlist, and Black Domain it's surely the CD i have listened to the most in 2003. Darkmoon, in the name of their style and of their resolute stage acting, soon has become one of the few bands able to carry me away, and my readers know that there is a good number of artists i really appreciate on the whole , only few of them being able to enthrall me though, and in particular live. You can count these bands in a number around 10 and then it's stop for the moment. Darkmoon are really the hit with their Melodic Death/Black with temperament , if the band will confirm that great stage attitude i saw in Lörrach, they will own it all again, cause every concert is important in order to satisfy a demanding technical audience and to maintain the level of success in the scene. And here they are: stage and instruments are prepared, the pit is full again , the crowd cannot wait. Franky Winkelmann at the mixing console will make out the best of the sound possibilities. Matthias and the rest of the band after a moment of deep concentration are ready for the hungry wolves.
Darkmoon start off, after the intro The Darkside, with Wings of Death, that is also the formidable opener of Black Domain. Implacable energy and force at once. The determination of front-man Matthias and mates is top notch. Wings of Death combines in an unique way fast Black speed and Melodic Death with a handful of hooks and this quality is clearly delivered also through this live. The result of this chemical reaction is a pit already at cloud nine. May a solemn headbanging be with you! The band is compact and well united like i saw at the Metal Forces: and i cannot help myself to establish again that they are cool to be heard and to be seen. Guitarists Richy and Chris and bass player Pascal arise a wall made of both tremolo chords and granitic heavy riffs in good coordination, propelled by a thunderous exact drumming, while Matthias work the crowd with its magnetic presence: he mixes that touch of straight-to- the- point brutality, typical of Harmony Dies, together with an aggressive but charismatic "potency", passing from growling to a certain screaming. The bands holds up very good this song, and, among the approvals, Terror is announced, that Terror with some hardcore attitude that still and again seems alien to me in Darkmoon's repertoire, but who cares? From the moment that the audience enjoys it like hell. Of course it is a song with a good slow-stamping refrain. The Fallen One, Human Plague and Lord of the Flies are eagerly consumed by tireless crowd that responds in a great way. Darkmoon underline a lot the rhythmic section, the strings can act as one, they can hold a line of synchronicity, but, at the same time, with total easiness, guitars and bass suddenly can differ delivering that stroke of arpeggio or that stroke of solo, which make the difference. Drowning, another hit track from Black Domain, is placed now to excite even more. The song Black Domain itself is requested expressly by the pit and perfectly executed, in particular by drummer Hubi, that though being not fine at all, has performed every track in such a skilful way that you would have never imagined , listening to the thunderous blasting performance, that he was not in shape tonight.
And when the band, right due to the not optimal condition of Hubi decides to shorten a bit the set, the show was anyway almost complete, (practically Darkmoon have preferred not to offer an encore in spite of the still thirsty request ). Among the song presented the cover of Roswell 47 from Hypocrisy was a total surprising trip. Hail Darkmoon!
dalia di giacomo