First of all, Steven, would you be so kind to shortly introduce yourself to our Readers?
Steve: My name is Steve Juliano. I sing for the band "Requiem for the Dead", and I write and draw comic books, my newest one called, "Lovers and Kings".

To start with the Interview: We are going to focus on your graphic novel "Lovers and Kings" today, and not on the Band Career, which you also have in the Band "Requiem for the Dead".
Could you please give our readers a short overview of what your graphic novel is about?
Steve: Of course, though I don't want to give away too much, ha ha. The story begins in 1916 in France, and World War One is pretty much in full effect at this time. The story centers around a small village in France called Bezonvaux, where not everything is at it seems. The story revolves around 6 children mostly, but there is a huge epic back story to all this as well. This is an intense book, in the vein of "Pans Labyrinth" crossed with the movie "Seven" (with Brad Pitt). Ha ha. This comic is definitely not for children...


What can we expect from it?
Steve: It hopefully will be a series of books, with each one bringing more insight onto the table on what exactly is going on. It's definitely a mind fuck.

Who are the main characters?
Steve: Well, the book spans well over 100 years , so there are a lot of characters that come and go, but it mostly revolves around six children around ten years of again. The "things" they come across is very hard to explain with out giving everything away, so I will have to leave it at that...

Where did you take the inspiration for a novel like this from? And what is the media you work with?
Steven: Well, I am a horror movie nerd, and that stems since I was like five. I am also very found or read books about World War One and Two. It just fascinates me on how we could do the things we did during that time. The History Channel is on like all the time in my house. I wanted to write a book that brought my love for horror and also love for history into the same void. I think this really works. At the start, it was mostly just sketches and pen and ink art, then, slowly, i started to combine this with computer art. It's coming out very lovely indeed...


The novel seems to be inspired by modern horror – are there any movies or directors which inspired you in peculiar?
Steve: I am a huge Guillermo del Toro fan, and he wrote and directed Pans Labyrinth, The Orphanage and all the Hell Boy films.

Talking about movies: Which are you favourite movies?
Steve: I am a crazy mob movie fan, like "The Godfather", and "Goodfellas", and "Jonny Brosko". I guess it's, 'cuz I'm Italian... ha.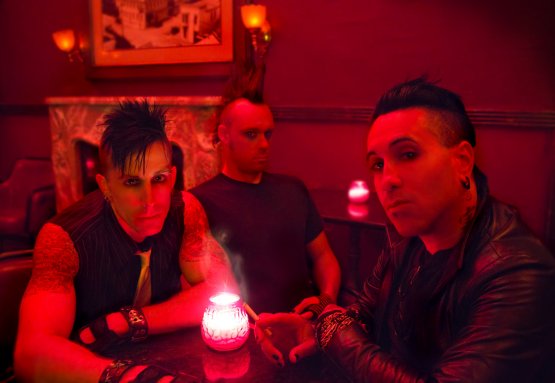 Do you appreciate newer movie director's works or have a preference for old movies? And why?
Steve: Well, directors back in the day like Frank Capra, who is my favorite director of all time, had a lot less to work with back then, so they used the medium of good writing and story telling rather than fancy explosions or special effects. It shows a lot now with directors, like Michael Bay who is horrible, in my opinion. Visually, it's awesome. But on a writer/story telling aspect his movies are just so bad.

How many books are planned for "Lovers and Kings" and are they all connected to each other, or do they have different storylines?
Steve: As of now, we are looking to do 5 books. That should be enough to tell this entire story. Right now book one is complete, and half of book two. It's a slow process since I write and draw the entire thing.

Considering the "second Job" you have in "Requiem for the Dead"
– Isn't it difficult to create so many drawings for a Novel and work at Songs for a Band at the same time?
Steve: Yes, sometimes I catch myself working on too many things at the same time, and it spreads myself thin for sure. I am a work-a-holic, and I am rarely watching TV or on the couch hanging out. I am pretty much either on the computer working on my book, or at the studio working with Requiem for the Dead, or working on friend's band CD covers and other things like that.

How is the work at "Lovers and Kings" going further?
Is there any release date for your Novels by now, and will they be released in a set or at different Dates, one after another?
Steve: At the time, it was supposed to come out like this year, around Halloween, but then the publishers wanted more books, and they wanted them all done first before putting out book one. It was a huge drama deal for me, and a lot of stress, but I understood now what they are coming from. It's a business. They want to make sure that not only is Lovers and Kings Book One really good, but also the other ones they are signing on. It's like a band, who records an amazing first CD, then the other 3 or fucking horrible. They had a huge risk with money and time, and now I get it.


When you were little
– Have you always been sure that you wanted to be a creative Artist or did you have different Dreams about which Job to have later on?
Steve: I have wanted to be an artist, either in films or TV or comic books since I could walk. I was all I ever did. While my friends were at parties getting drunk and laid, I was in my room all night drawing.

While growing up and more and more turning into an Artist
- Have you ever reached a point where you didn't know how to continue?
If so: What did you do in that situation?
How did you make it to finally go on?
Steve: Starting my last band, "I AM GHOST", and getting signed to a huge label was a huge set back for me artistically. I was never home, and always in a van travelling show to show and the whole "I want to create/write books" kinda faded for about 5 years. The band was doing pretty well, so I put all my eggs in that basket, which was one of my biggest mistakes. I tried to draw and work on stuff while on tour, but it just didn't work out. Now that I quit that band and have a stable living situation, my own room and office, I can finally get back to doing all that which I put on hold for so damn long.

When did you discover that you have not only the talent to write Songs, but also to draw?
Steve: Well, I started in grade school when friends would always put a piece of paper in front of me and ask them to draw something for them. At first it was fun, I liked it, then it got kind of annoying. Everyone wanted me to draw this, or draw that, or draw them, or draw a monster or draw a fucking lion. Ha ha. I realized then that I might have something going so it motivated me for sure to keep working harder and get better...

In which form are you planning to release your books? (E-books, physically, other…?)
Steve: I hope to have it released in all forms of media, such as paper back, hard cover back, and yes, even online on EBooks.

To many people, the Novel may seem bizarre, if not even disturbing. What is your own view onto your Creation?
Steve: I think you nailed it. The book is very bizarre and even I find myself looking at what I just created and going "Holy shit, did i just draw this?" I wanted to make the reader uneasy when they read this. I want them to put the book away after it's done and really feel something inside, deep down. I want them to want to talk to their friends about it, and go "I just read the most intense book... ever."


Last but not least, do you have any final words to our Readers?
Steve: Just thanks for taking the time to talk to me, and make sure to visit my official site of my book at: www.loversandkings.com

We thank you a lot for this Interview, and wish you all the Best for "Lovers and Kings" future Release, as well as the success with "Requiem for the Dead"!

interview by Sandy Bollig September 2011
Sandy Bollig is free collaborator for GryphonMetal since 2011. She is based in Germany.