26/08/2002 ALL PICS BY: © Absolut_Evidence - REVIEWS BY Dalia "Gryphon-spirit"
SUMMER BREEZE 2002 - I DAY 22/08 - SECOND DAY - THIRD DAY
if i should summarize this day with a title, on the base of what i've personally seen and felt, i would call it :
"THE TIME OF DESPAIR DAY" cause Entwine have proposed this song with incredible passion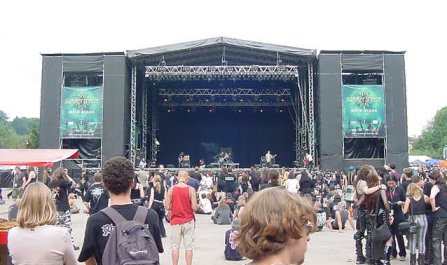 the Main Stage
FIRST IMPRESSIONS
BURDEN OF GRIEF
CRIMINAL
ENTWINE
HYPOCRISY
EDGUY
FIRST IMPRESSIONS
Thursday August 22: the Summer Breeze 2002 edition begins. Here we go! We find Abstgmünd in the heart of the green and friendly German Swabia, near Stuttgart, and, thanks some good mooded gods, the weather is super cool with the sun shining and agreeable temperatures around 28°. Fortunately, the very recent problems of the flood zones ( we of gryphonmetal would express our deepest sorry and solidarity) are so far from here. These ideal conditions perfectly reflect the name and the essence of the Summer Breeze. When Stefan and me arrive at the Summer Breeze area, the last preparations are in full rhythm and the first groups of visitors are already waiting, in front of the imposing main stage, for the first band playing, while others are enjoying the first beers or visiting the numerous shops. The first thing that one can notice is indeed the two stages which ,fortunately, are so close one another : the Main and the "Pain" Stage. They are structured in a similar way and are "gorgeously black", beyond any other technical characteristic i think that only dimensions are making the difference, being the Pain stage a little bit smaller than the other, but i would stress than the Pain stage too could be worthy of being itself the main stage in whatever open air. I will soon be aware that the quality of sound wouldn't reach the niveau of the superb stage of the Ministry Of Rock (Frauenfeld Switzerland) which was really unique in its modernity and equipment, but neverttheless both stages here at Summer Breeze are doing wonderfully their "job", cause anyway the sound is good, and the more you are far from the stage the more the better the sound is, so that you can enjoy a gig also being rather far from the usually overcrowded first rows. Every band has structures enough in order to produce a god performance. Smoke, lights and fire effects methinks will be valuable and optically cool.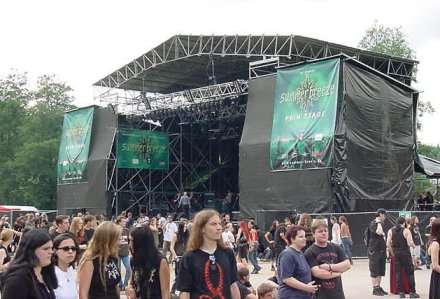 the Pain Stage
While Volcano are playing on the stage in front of a good number of interested people, we take the first contacts with the organization and try to reach the press area, which is then the backstage tent, where the security let the authorized persons in, only after having received the right dispositions about and this requires a little bit time. Surely the first impact for the press is not the ideal one, but the more the time passes , the more everything is getting under control by the organizers who are doing a lot of work and a good job to solve the problems. A lot of shops and the most various food sellers are already open for the joy of all metalhead necessities: from fantastic dresses and shoes to T- shirts, CDs, posters, beer, pizzas, steaks, würstel and all things you can imagine , suitable for having a good time! Everything is near and can be reached in a comfortable way, moreover prices are honest. And at least, but not of last importance, the hygienic structures are numerous and good offered, and a medical tent is there for immediate helping in case of any diseases. Unfortunately the camping place is not adjacent to the festival area, but buses are there to "shuttle" the souls in black from tents to here (and from here back to tents methinks!!) and surely there is also the possibility to get showers.
And now: keep on rocking!! and having a fantastic time together! I have the impression that here everybody... stays metal hehehehehe, under a pleasant summer breeze!!!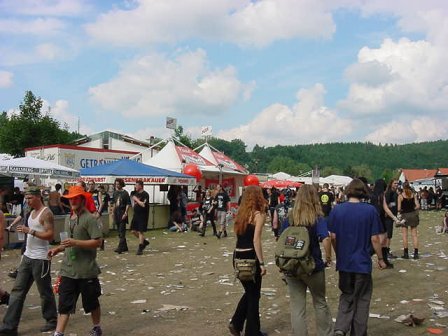 BURDEN OF GRIEF
www.burdenofgrief.de
www.massacre-records.de
As soon as Mr Vader have finished to play on the main stage, begin Burden of Grief from Kassel their gig on the Pain stage with full power. Already a good number of people are here in order to support this German band who is playing a kind of very speed and fresh Death . Mainly young people are here indeed and everyone is seriously intentioned to make headbanging from the start till the end of the performance. Frontman Mike Huhmann is very engaged, right aggressive but also quite relaxed at the same time. He seems to enjoy so much being on the summer breeze and i can believe it cause his band begins to taste the success after having released "On Darker Trails"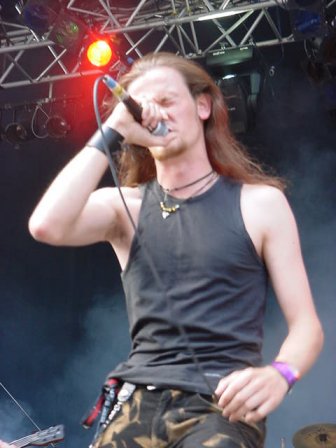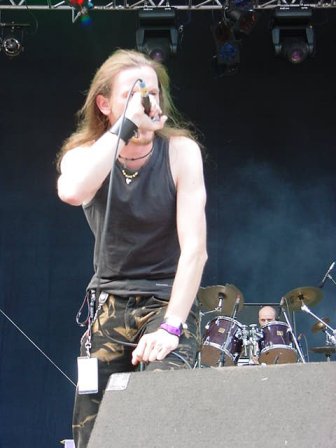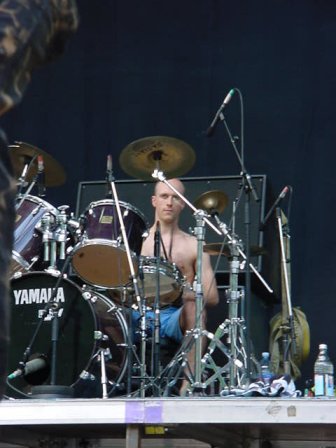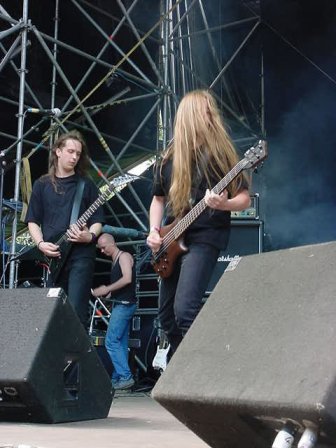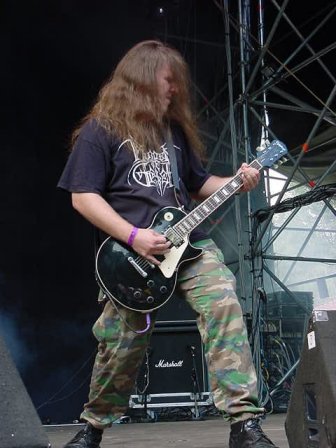 Jets of water are sprayed from a pump by the security men who are not only assuring safety and order but also take care of fans providing them fun and any help. The temperature is hot and even hotter when guitars and drums are shooting a mountain of energy and implacable notes like Burden of Grief are doing. No mercy, please, we metalheads are hungry and Demonized is the right song which makes audience explode for joy. Burden Of Grief knows also how to be melodic, showing a talent in time changing and versatility, but here on Summer Breeze energy reigns above all, and the thunderstorm of double bass drums and guitar riffs may be with us. Well done!
setlist:
reborn
cold fire
smashed
demonized
paradox
---
CRIMINAL
www.criminal.cl
Turnovers here are made very quickly: Burden Of Grief are gone and almost immediately on the main stage Criminal appear. I want to see them live at any cost: a band of Chile playing such an acclaimed metal? OK, so, let's run faster than the light: direction main stage. Well from first notes it's clear that these Criminal are compromiseless. They play extreme music with ethnic flavours and methinks their sound is following the charismatic (above all for bands coming from South America) Cavalera school, but , thanks all gods of heaven and hell, their music is not a copy of the tribal Soulfly and Sepultura , cause Criminal are absolutely Trash-Death oriented in a heavy way, with some Hardcore influences too, and they are very aggressive. The opener is Cancer followed by Force Fed (both from album Cancer). then it comes Slave Master
They are singing also in Spanish , like Anton Reisenegger, vocalist and guitarist, is making known, presenting El Azote while "macho" Rodrigo Contreras is severe with his militar look - Ibanez (methinks it is)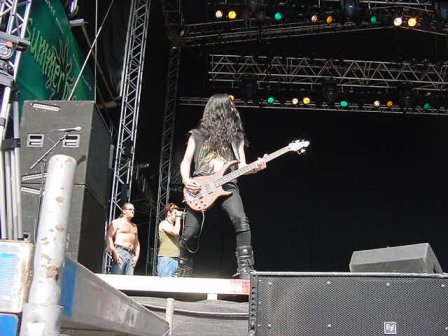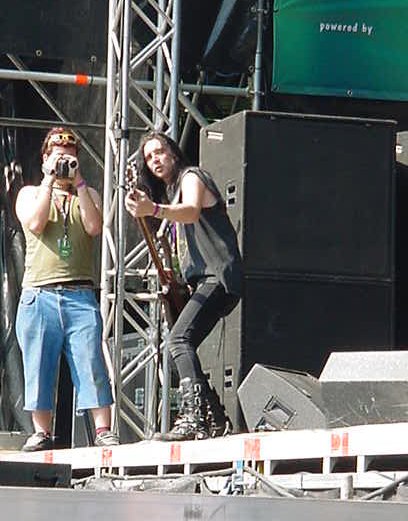 Collide and Victimized are played as well. Criminal show to have experience and self-confidence, placing solos and killing riffs, though, under the stage, one perceives vocals as if they were covered by the instruments.
" Do you want Beer Metal ?? !!!", Reisenegger is asking . "Yeah!!!!", the crowd answers (there is no need to ask many times indeed), and immediately Beer Metal is served. At the end of the gig, the energetic Anton is saying goodbye to the Summer Breeze with a "fuckin' great! thanks Summer Breeeeeze!", without forgetting to add something against the fucking microphone. Anyway, fucking great time, so just to remain coherent...
---
ENTWINE
www.entwine.org
CD review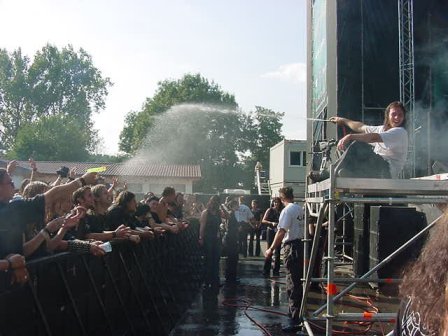 Man, what a beautiful summer day today is! and how many persons are enjoying a good jet of water, while waiting for Entwine on the Main Stage. While on the Pain Stage Night In gales are playing, here, under the Main one, a big crowd is waiting for the new "gothic" stars, and, from the moment i personally like so many Entwine songs, me too cannot wait to see finally them live. And another reason is making me remain here: my colleague Salvo Lovedeath!! So a big Entwine fan is our Italian reviewer!! So Lovedeath, enjoy the review and pics, together with the many dark souls who love Entwine :). But Salvo, next time move your a*s!! Promised?
Electronic The Pit intro. Smoke has risen from the stage and here they are! Drummer Aksu and the guitarists Jaani, Tom and Joni reach their places, and then the beautiful Riitta, in red and black, is standing in front of her keyboards. The notes are starting with energy and let's go! The Pit!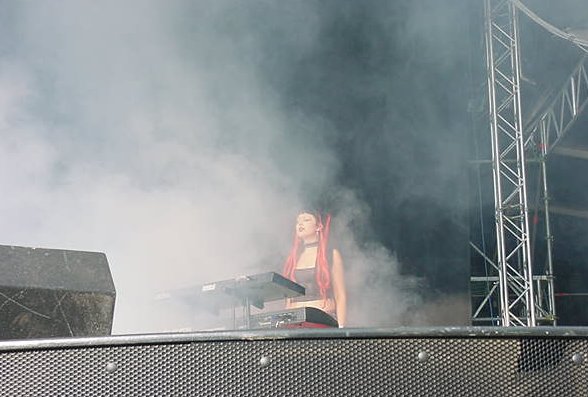 And now here he comes on the stage, Mika, the frontman. How will his voice sound? Will he let free his so typical voice, which stands out among thousand? Well, Entwine begin with nonchalant look, but my first impression is that they seem a little bit tired. But could it be something else after the recent engagements? Mika's typical timbre becomes clearer and clearer to be heard the longer he sings, and, from the moments Entwine play certainly a sweeter music , though heavy in its genre, than Criminal , his voice doesn't collapse under guitars, at least , I repeat hearing the performance from the very first row, cause i would underline again that the more you are moving back , the more you get a super stereo sound, in which you can appreciate better high and low frequencies.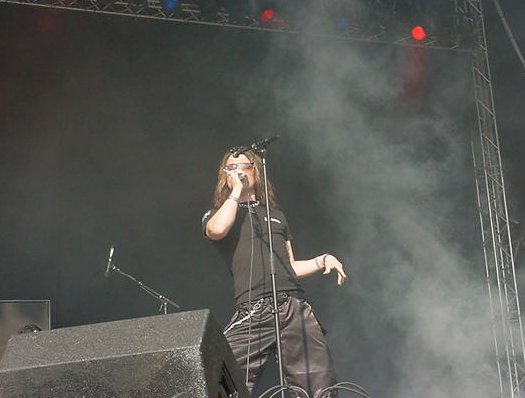 Well, to be honest our Mika is taking some passages out of tune, but immediately everybody forgives him cause you can be sure that the next passage will be superlative. It's incredible how good he can sing and how his voice can go under the skin, and he seem to like very much the enthusiasm of the audience. A really big crowd is supporting this band, so beautiful to be seen, so smart, so romantically heavy and melancholic, kissed today by a sun that maybe is not very suitable for their dark atmospheres, but that is exciting people which is enjoying music and water jets, headbanging and dancing...and dreaming, maybe. After the intense Thru The Darkness and New Dawn, it's the turn of Nothing left to Say with its fascinating
"..would you die for me baby
cause i'm dying all the time"
and the irresistible outro
"no more lies
from now until the end of time"
sung in a superb way, priceless!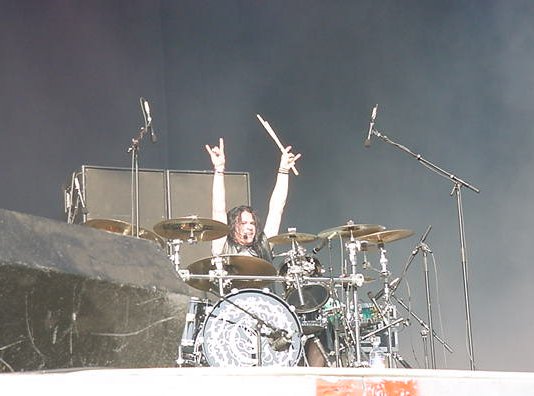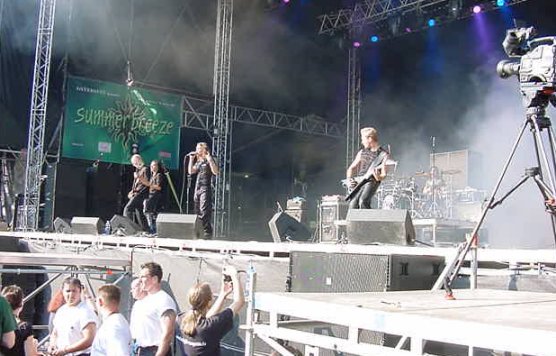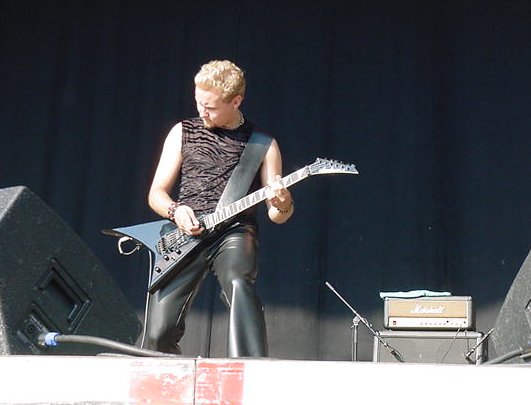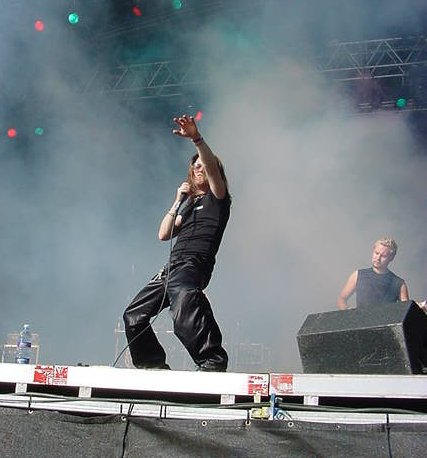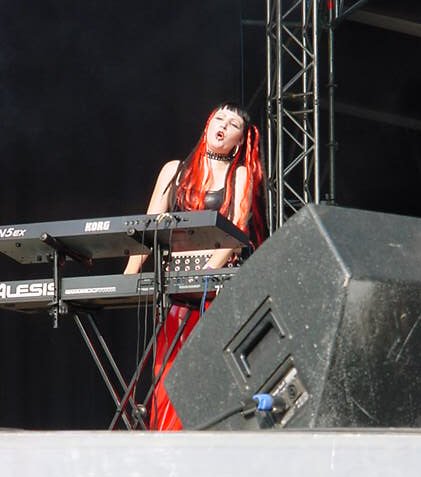 And after Closer and Stream of Life, it comes the cool and impressive Silence is killing me ; then we go on with Snow white Suicide, and finally Entwine present the song which gives the title to their last album Time Of Despair, among the general acclamation. Extremely sad and tormenting , this song is giving a strange touch to the sunny afternoon
"in this time of despair
when all that you love is dead
it's my desireless game to be alive"
Entwine are presenting this song with such a passion and personal feeling inside, that it's so clear to me that this song is representing much more for them than a simply good creation. For me this song will symbolize my first day of the Summer Breeze 2002 forever. And even more cause it's making such a contrast with the general happines here. But, guys...dark is dark. Priceless...again
Entwine go and i'm a little bit sorry that the wonderful Tonight and Tears are falling were not included in the setlist. Patience, i have enjoyed so much the gig anyway, i am not disappointed at all, and the fact that soon i will do my first interview here on SB and with Entwine indeed is cheering me up ...well... anyway Time of Despair is sad...really sad, let's try to smile, people!!!
setlist:
intro/ the pit
thru the darkness
new dawn
nothing left to say
closer
stream of life
silence is killing me
snow white suicide
time of despair
interview with Mika Tauriainen is on line
---
HYPOCRISY
http://fly.to/hypocrisy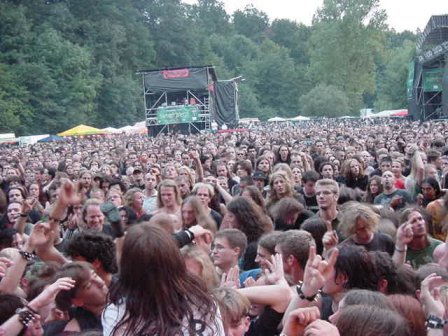 19.45 h : a mega crowd is waiting for Hypocrisy to play on the Main Stage. The brilliant Death of Catch 22, "signed" Peter Tägtgren from the very talented land Sweden, which can be melodic , aggressive and even catchy when it wants and how it wants, is a super attraction. Here it comes: the Metal, though a kind of synthetic feeling runs through the new songs. Beware, aliens are somewhere watching you! Anyway Hypocrisy remain Hypocrisy beyond any discussion of the kind " was it better Into the Abyss? Is there in Catch 22 too experimentation? If i look the crowd, methinks no one is thinking of any of these and other questions and when Hypocrisy are on the stage , enthusiasm and attention are reigning. Hypocrisy seem to be at the top of their technical ability and surely very fit. I'm impressed, cause they are surely better than they were at Z7 during the No Mercy festival. Valuable, valuable! And while the songs are presented without compromises, the enthusiasm is growing more and more. The crowdsurfers were countless and more or less 30 security persons were there in order to help them to put their feet on the ground again , showing them the way out of the photo pit.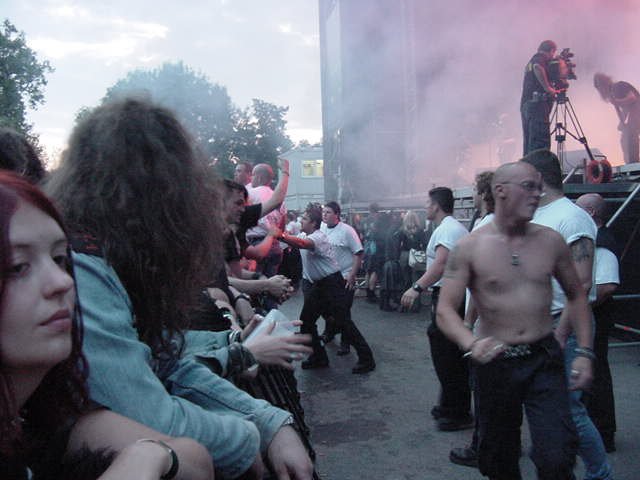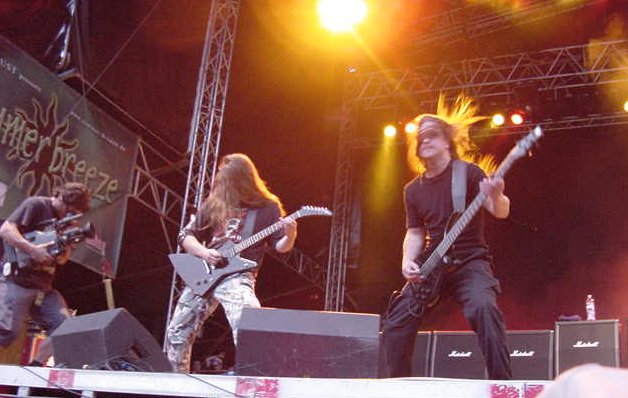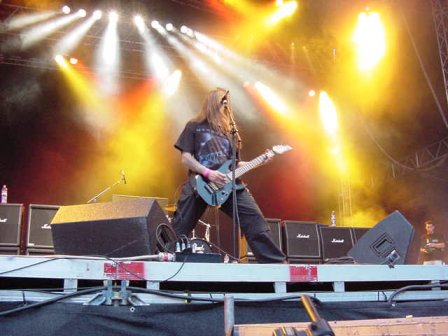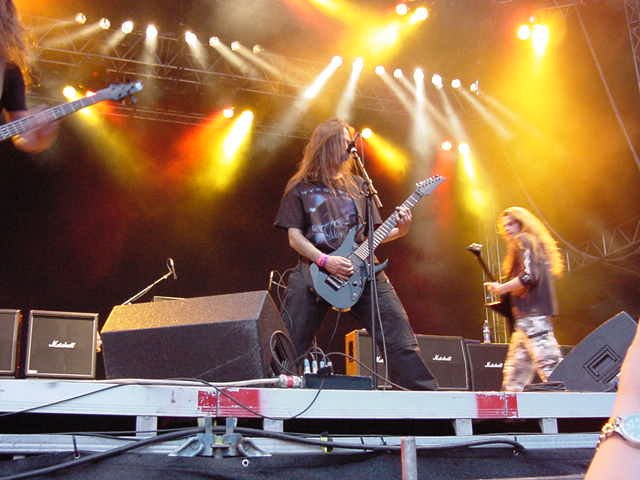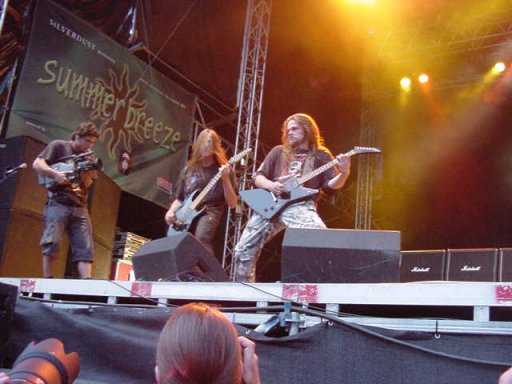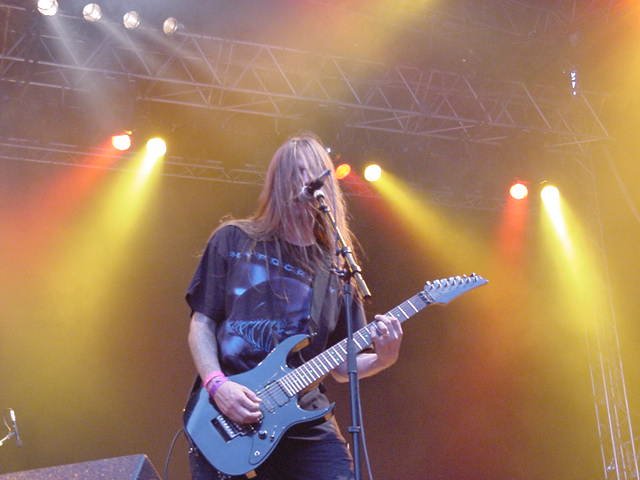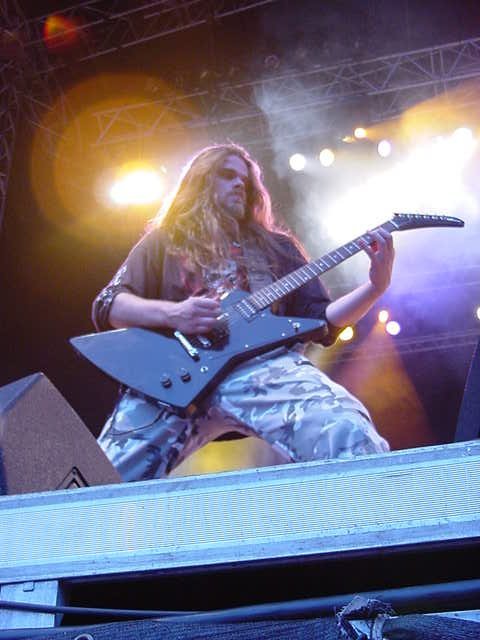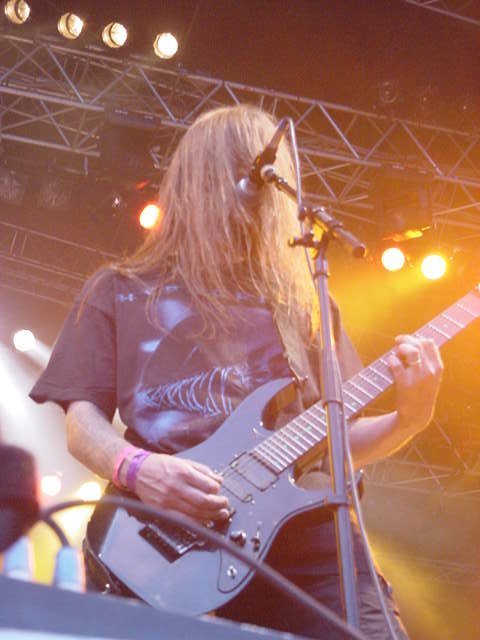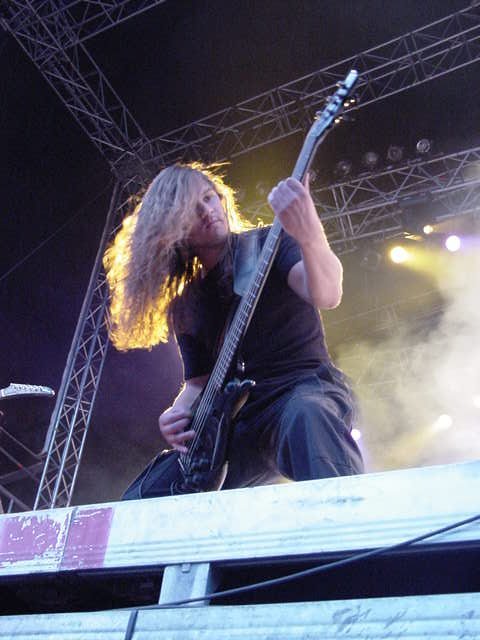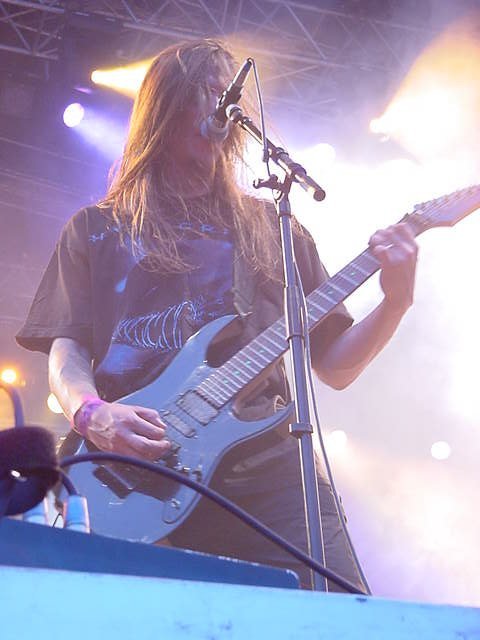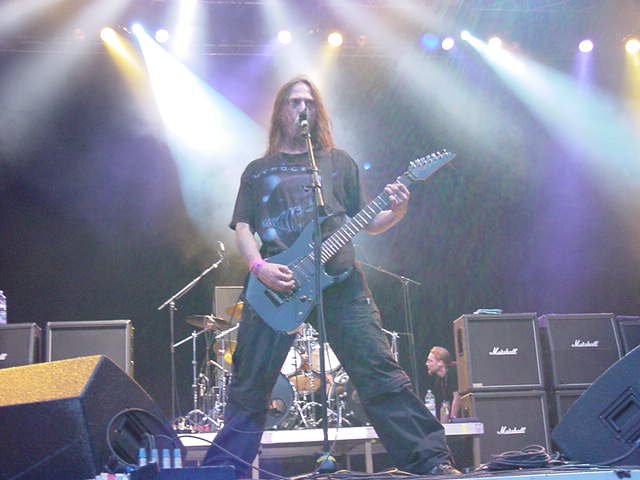 When Peter Tägtgren is greeting the Summer Breeze, a chorus of ovations can be heard, the same happens when Tägtgren congratulates the audience letting understand that without such fans he would be nothing. But the most impressive thing is the mega acclamation at the end of the performance: "Tägtgren! Tägtgren! Tägtgren! Tägtgren!" Eh ok understood he is "God"! "See you tomorrow!" tells god Tägtgren, before going away after the encore, to the audience enraptured. Eh ok understood, but Pain is not Hypocrisy. So how many faces has this "God"?
---
EDGUY
Evening is drawing its shadows and the night is coming to say goodbye to the first day of the festival, but the show will go on till late with Edguy, Ektomorf and Tiamat. Among these three ones i have folowed only the Edguy gig and i have to say, yes "have", that, though Tiamat in my opinion has become an opinable thing, not very much distinguishable from Lucyfire, i would have preferred to see Tiamat hundred times at the place of even only one Edguy gig. Well, the Power genre is not really my cup of coffee, but i try to remain open cause there are bands playing such a superb and intelligent Power, that is a joy to listen to them and to see them on stage. Ohh but this evening..., ok these are personal considerations and Edguy fans should be not so (much?) angry with me, this evening Edguy are rather chaotic! The first songs were played and sung mostly out of time and rhythm, the beautiful Tears of a Mandrake was practically unrecognizable and Tobias Sammet, whose voice i can usually hardly stand, is sounding even more high and unpleasantly vibrating. I must also say that the band shows to have a lot of energy and is in extremely good mood, and that the more the gig goes on, the better Edguy play, trying to put on the right way a performance that anyway has always been joyful. An enormous crowd was supporting Tobias and Co. electing them absolute darlings of the evening: cause, if Hypocrisy are venerated and esteemed, Edguy on the contrary are really loved ..or not at all it depends. Here i am among a lot of persons who love them and how much! But if anyway the members try to do a lot of work playing hard and happy guitars and drums, the jumping Tobias who runs here and there like a perpetual motion with his voice on the last floor of a skyscraper is something i really find annoying if not irritating tout court. Nevertheless united we stay, and me too stay strong till the end of the show, which offers these numbers - 1) acclamations are: countless, 2) happy people: countless, 3) Sammet's jumps: countless, 4) number of times where Sammet turns upside- down the microphone- support bar: countless, 5) flying bras: 2, one white and one black, oh no maybe 3 or even more, anyway only those 2 have reached the stage and were hung up by the band on the microphone like a safari lion skin (brrrrr what a show for a feminist like me!), 6) encore: 1 with 2 songs which, thanks the "spirits" who protect the dark souls in trouble, are played really well and were pleasant to be heard: Avantasia and Under Control. All's well that ends well...hehehehe
dalia di giacomo