Deutsche Version
zum Seitenanfang
top - inizio pagina
 SWISS  UNDERGROUND 
LIVE  REPORTAGE
DESTROYER NIGHT 1
Presented by DeadlineBooking Switzerland
In Zusammenarbeit mit Avocado Booking und Let It Burn Records
The Haverbrook Desaster (DE), Darrow (CH),
Novel of Sin (IT), Sweet Massacre (CH)
Jugend- und Kulturhaus Tramstation, Münchenstein, Kanton Baselland, Schweiz – Oktober 28 2011
www.myspace.com/sweetmassacre-band
www.myspace.com/thehaverbrookdisaster
S ich dem grassierenden Kapitalismus zu entziehen.
Live-Bericht und Fotos von Dominic Latscha
Underground-Konzerte sind heutzutage rar. Aufgrund der Wirtschaftskrise haben viele Leute weniger Geld in der Tasche. Viele Schweizer Promoter buchen neben den Amerikanischen Bands oft die gleichen Schweizer Bands, welche schon eine grosse Fangemeinde haben um Profit zu erwirtschaften. Daraus entsteht ein immer wiederkehrender Einheitsbrei weshalb sich schnell Langeweile breit macht.
Dass es auch anders geht beweist DeadlineBooking Switzerland. Gegründet wurde diese Non Profit Organisation von Felix Durtschi und wenig später stiessen mit Mario Della Morte, Deadline Joint, Edmond Losey und Dave Horstmann weitere Mitstreiter hinzu. Das Hauptziel besteht darin "unbekannte Bands" aus der Schweiz und Europa zu unterstützen und sich dem grassierenden Kapitalismus zu entziehen.
Aus diesem Grund wurde die Konzertreihe "Destroyer Nights" ins Leben gerufen. Als Premiere kam das Publikum in der Region Basel in den Genuss. Neben den lokalen Acts Sweet Massacre und Darrow wurden die Italiener Novel of Sin und die Deutschen The Haverbrook Disaster als Headliner für die erste Ausgabe gebucht.
Um 20 Uhr hätten Sweet Massacre aus Muttenz den Event eröffnen sollen. Weil sich der Headliner The Haverbrook Disaster verspätete, musste das Ganze umorganisiert werden. Dadurch konnten sie erst um 20:30 Uhr die Bühne beginnen. Mittlerweile haben sich die Metal- und Hardcore Fans in der Tramstation eingefunden um sie live zu sehen. Diese Show war die erste seit ihrer Trennung im Jahre 2004.
Dank einer guten Performance und dem Cover des Lady Gaga Hits "Pokerface" konnte Sweet Massacre einen guten Eindruck hinterlassen. Obwohl sie als Opener auftraten, wollte das Publikum eine Zugabe. Mit dem Kracher "We will rise" verabschiedeten sich Sänger Michel Egloff, Gitarrist Marco di Pinto, Bassist Adrian Graf und Schlagzeuger Michael Schöni von den Zuschauern und ernteten viel Applaus.
Setlist Sweet Massacre
Call For Blood
Dead
Betrayer
Sick
Revenge
Kill Your Mother and Rape Your Dog
Gorecore
L
Pokerface
Im Anschluss hätten Darrow auftreten sollen, aber wegen der Programmumstellung waren Novel of Sin an der Reihe. Nach ihren Auftritten in Zürich und Bellinzona besuchten sie zum ersten Mal die Region Basel. Mit ihrer Mischung aus Metal und Hardcore gaben sie von Anfang an Vollgas. Trotz weniger Leute, die sie live sehen wollten, waren die Anwesenden begeistert. Ihr Set war zwar kurz, aber intensiv und gut.
Setlist Novel of Sin
Korn
Dethroned
Extinguish
Fragile
A Key For
Alone
Nun waren Darrow an der Reihe. Die Band, welche früher als The War We Lost bekannt war, durften mit "Drifting" loslegen. Die Location war wieder gefüllt, denn sie sind ein Garant für hochkarätige Aufritte. Auch dieses Mal überzeugten sie um Frontmann Stefan Flückiger und den Gitarristenduo Joachim Seiffert und Luca Caraci. Man hatte richtig Spass. Leider konnten sie nur 30 Minuten spielen, aber das reichte für eine gute Show.
Setlist Darrow
Drifting
A Million Scars
In Loving Memory
From Nothing
Inside the Casket
June
Liberation
Generation of Builders
Competition
Letter
Als Headliner traf The Haverbrook Disaster mit Verspätung in der Tramstation ein. Zu später Stunde durften sie diesen Konzertabend beenden. Wer nun gedacht hatte, dass beim Publikum keine Energie mehr vorhanden wäre, lag voll daneben! Mit ihrem energetischen Sänger Andreas Villhauser konnten The Haverbrook Disaster mit Uptempo-Songs und Breakdowns lastigem Hardcore voll punkten. Metaller headbangten und die Hardcore Fans vollführten Violent Dancing und 2 Step. Mit "Define Me" wurde eine Zugabe angestimmt. Dank einer starken Performance hatten sie für einen weiteren tollen Auftritt gesorgt und den Konzertabend abgerundet. Ein grosses Dankeschön geht an Felix und Dave für die tolle Organisation.
Setlist The Haverbrook Disaster
Rewind
Mr No Regrets
Hopeward Bound
Ruiner
Offer
Talking Big
Oceanic
Train
Define Me
An diesem Abend waren alle Bands die Sieger, denn es gab nur Performances auf hohem Niveau. Ich freue mich schon auf die 2. Destroyer Night am 9. Dezember in Winterthur, Kanton Zürich, Schweiz!
Des Weiteren findet am 14. +15. Januar 2012 das Deadline Festival in der Grabenhalle St. Gallen statt!
written by Dominic Latscha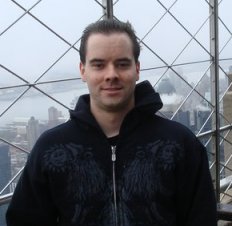 Dominic Latscha is local editor for Switzerland. He is reviewer for gryphonmetal.ch since 2010. More in the Team section.
November 2011